rtcg.me
PODGORICA, 02.10.2018. – Financing the Public media service is not an expense, but an investment into democracy and society, it is concluded at the round table "Public Media Service in Montenegro – Financing, Governance and Regulation"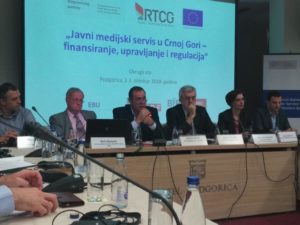 Senior consultant of the European Broadcasting Union (EBU), Boris Bergant said that the financing of the public service must be stable and sustainable. He also believes that there is no public service without political independence. He said that the public service must be different in the offer, and that it must cover all areas of citizens' interest. The fact that they are public service, he says, means that the product must be verified and credible, and the program open, responsible and innovative.
"Financing the Public media service is not a cost, it's an investment in creativity, people, thinking. Public service is not just information, it's a cultural center", said Bergant.
Team leader of the Regional Project of Support to Public Media Services in the Western Balkan countries, Vojislav Raonic said that the problems of public services in the region are similar and that they mainly refer to financing, management model and capacities, which include equipment and employees.
Otherwise, the goal of the project is to contribute to the reform and professional development of public media services in the Western Balkans, in order to encourage the production of pluralistic, independent and credible program content.
Representative of the NGO Media Center, Dusko Vukovic, said that funding from the budget is always related to the perception that the public service is a state media.
"It should be avoided that forces outside the Public Service are influencing this", Bergant said.
Radka Bečeva, EBU Director of the Center for Relations with Members in Central and Eastern Europe, said that it is very important to explain to citizens how the role of the public service is and why we should invest in it.
rtcg.me, Podgorica, 03/10/2018