BHN
SARAJEVO, 17.09.2018. – The third meeting of the BHJA Journalists Club in Banja Luka was held after the attempt on the murder of BN TV journalist Vladimir Kovacevic on August 26th.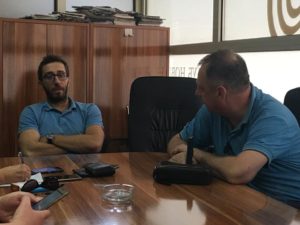 The participants of the meeting once again urged the police and the prosecution to bring the investigation to an end and to uncover the motive of attempting to murder Kovacevic and the ones who ordered of this murder, as soon as possible.
One of the themes of the meeting were also frequent cases of reposting unverified and unsigned texts of various portals, especially on public services, including the text "Davor Dragičević: Hero on the death of his son".
BHJA Journalists Club Banja Luka strongly condemns such practices of media RTRS and SRNA, because it puts at risk not only the persons mentioned in such texts, but also journalists in general because they create an atmosphere of distrust and intolerance towards media and journalists, including the employees of RTRS and SRNA,
BHJA Journalists Club Banja Luka says that it is the duty and obligation of all media, especially public services to respect professional and ethical codes and to work in the public interest primarily.
BHJA Journalists Club Banja Luka
BHN, Sarajevo, 17/09/2018