BHN
BIJELJINA, 21.10.2017. – "Journalists writing about the topic of gender-based violence must be familiar with the concept of the cycle of violence, because survivors of violence have most often gone through all of its stages, including threats, manipulation of children, emotional, economic and sexual abuse, isolation, intimidation and physical violence" , said Radmila Žigić from the Foundation "Lara" at the workshop "Reporting on the topic of gender-based violence", which was held today in Bijeljina.
The one-day training focused on the institutional and legal context that addresses gender-based violence, as well as ethical and professional journalistic approach to reporting on violence against women and girls.
Journalist and activist Milkica Milojević assessed media reporting treat violence against women and girls as a social problem. "Professionally reporting on the problem of gender-based violence means avoiding stereotypes, prejudices and clichés." said Milojević.
Executive Director of Press Council, Ljiljana Zurovac, presenting the media forms for the topic of gender-based violence, said that in a large number of media reports there is total excess and distortion of privacy, with the goal of higher sales. "Media content on the subject of gender-based violence is mostly, unfortunately, only published when the tragedy results of long-standing harassment come about. There are few educational facilities that talk about the prevention of violence or legal sanctions, "said Zurovac.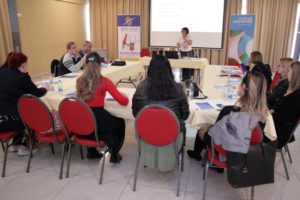 The One-day training for journalists, editors and bloggers,that gathered participants from media outlets and NGOs from Bijeljina, Brcko and Tuzla, as well as representatives of the police administration of Bijeljina, was held within the project "Turn Off Violence – Media against Violence against Women ", which is realized by the Association of BH Journalists with the support of the UN Women's Office in BiH and the Swedish International Development and Cooperation Agency (Sida).
BHN, Bijeljina, 21/10/2017