BHN
SARAJEVO, 16.05.2018. – Female jorunalists in Bosnia and Herzegovinaare often a target of gender-motivated and other forms of harassment and threats while performing professional tasks. Besides, researches confirmed gender disbalance, especially in the media management and editorial positions, as announced at a two-day conference on "Position and Protection of Female Journalists in Bosnia-Herzegovina Media", which started today in Sarajevo.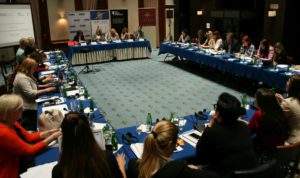 Problem female journalists face with in Bosnia and Herzegovina do not question only freedom of expression and media but also gender equality, wherefore a need for networking female journalists and increasing solidarity as category exists.
"Journalists are often the targets of harassment and threats in online and offline spheres. These issues need to be addressed in public, "said OSCE Head of Mission in BiH Bruce Berton, and expressed the readiness of this organization to contribute to the protection of journalist rights in BiH.
"A large number of gender-motivated attacks on journalists, registered ba Free Media Help Line, are just a part of the reason for considering the idea of establishing a network of female journalists as a platform for solidarity and a struggle for their freedom and protection", said Swedish Ambassador to BiH Anders Hagelberg.
Ena Bavčić, program officer of Civil Right Defenders, pointed out that even though the attacks on honor, reputation and physical integrity of journalists do not treat them seriously as life threats, they continue to cause significant and damaging consequences of professional and personal nature.
"I believe that it is time to start thinking about the position of women not only within the profession of journalism but also in the realization of civil and political rights. Journalists need to be empowered to report such attacks, apropos  the private way of confronting journalists, to switch to the public sphere and to work more thoroughly", said Bavčić.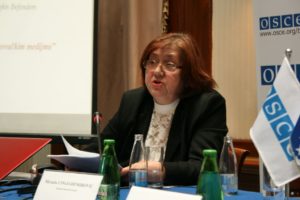 Besima Borić, gender equality activists, pointed out that BiH has an enviable legal and institutional framework for gender equality, including constitutional guarantees.
"Gender Equality Policy implies a devoted work to ensuring a unequivocal shift in power and resources. We consider equality as a high democratic achievement and it is clear that both men and women must strive for it. Partnership is built with high awareness of its need", said Borić.
On the conference in Sarajevo results of the research from BHJA were presented "Women and media: employees and management structures". Author of the analysis Amer Džihana, emphasized three basic problems that exist in the context of women and media, which are the absence of women from the most serious informative content, the way women are represented in the media, and the employment and promotion of women within the media industry.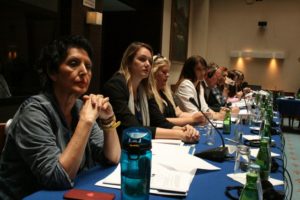 "The share of women in positions of director in the media in BiH is 25.3 percent, and men 74.7. The worst gender structure is in the leadership positions in the television sector, where women occupy only 15.8 percent of the polling stations", said Džihana and added that most women in the positions of the chief and responsible editor work in the radio sector (44.7%), and the least in online media, where women make up 21.7 percent of those nominated in these positions.
Professor on Faculty of Philosophy in East Sarajevo,  Zlatiborka Popov Momčinović presented the results of the analysis"Pressures, threats and safety endangerment of female journalists in BiH" that was contucted based on the data of Free Media Help Line.
"Attacks on female journalists in BiH are characteristic because they occur within the ethnically and partially divided public sphere", said Momčinović  and added that politician are the main initiators of attacks and freedom endangerment of female journalists
Still, as concluded today, getting the legislative framework for gender equality, together with the highly expressed enthusiasm of women for education, provide hope for the media sector to be regulated on the principles of gender equality.
The conference "Position and Protection of Female Journalists in Bosnia-Herzegovina Media" was organized by BHJA in cooperation with the OSCE Mission in BiH and Civil Right Defenders.
BHN, Sarajevo, 15/05/2018