21.10.2016. Ravnateljica Hine Branka Gabriela Valentić primila je prijeteće pismo koje sadrži niz gnjusnih uvreda na njen i račun predsjednika Hrvatskog novinarskog društva Saše Lekovića. U potpisu pisma stoji Jedan HOS-ovac (Za dom spremni), a njegovu presliku možete vidjeti u nastavku.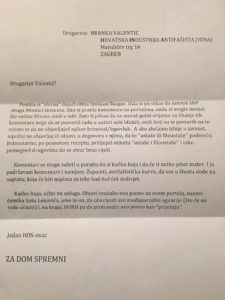 Branka Valentić slučaj je prijavila policiji, a za Fairpress je rekla kako je je ovo prva prijetnja koju je primila: "Do sada je bilo uvreda i pritisaka, ali ne i prijetnji. Ovo je prvo ovakvo pismo, stiglo je u Hinu i maloprije sam prijavila policiji. Nisam neka plašljivica, ali nije baš najugodnije kad vam, a vi ne znate ni tko je to, poručuje da će vam netko kad tad mater i da ćete saznati kakva će vam biti naplata. Mogu samo pretpostavljati sam da je riječ o nekome tko je blizak s gospođom čiji je otkaz, očito, izravan povod ovom pismu. Ne znam o kome se radi, niti želim prepostavljati. Svakako, ne osjećam se najsigurnije. S obzirom na to da je riječ o kaznenom djelu prijetnje, danas ću prijaviti i državnom odvjetništvu".
U pismu se spominje i predsjednik Hrvatskog novinarskog društva, Saša Leković, kojega nazivaju "četnikom". "Uvredama i prijetnjama, bilo izravno poslanima meni, bilo objavljenima na društvenim mrežama i u tekstovima raznih "kanalizacijskih" medija te komentarima ispod takvih tekstova, napadan sam od prvoga dana kada sam postao predsjednik HND-a i to ne prestaje već godinu i pol dana. Svi ti histerični ispadi su prepuni mržnje, a i bez ijedne relevantne činjenice koja bi ih makar objasnila jer opravdati ih ne može ništa. Razlikuju se samo po tome što su neki nešto pismeniji od ostalih, rekao je Leković za Fairpress.
Autor: HND