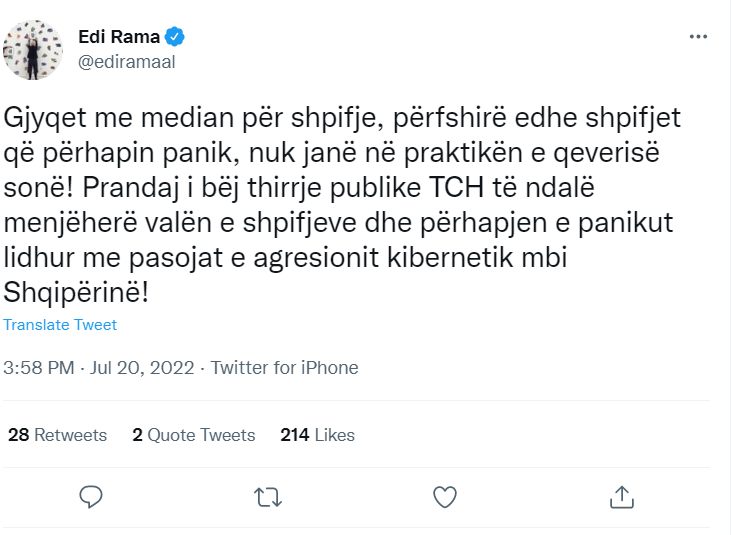 | | |
| --- | --- |
| Contry | AL |
| Name and Surname | Top Channel |
| Gender | Group Top Channel |
| Date | 20/07/2022 |
| City / Location | |
| Type of incident | Threats against media outlets and organizations |
| Name of the perpetrator | Public Officals |
| Type of media | Radio and television |
| Media name | Top Channel |
| Source | https://euronews.al/en/albania/2022/07/24/cyberattack-hackers-publish-official-documents-from-state-institutions/?utm_source=rss&utm_medium=rss&utm_campaign=cyberattack-hackers-publish-official-documents-from-state-institutions |
| Was journalist`s association informed | Yes |
| Were authorities informed? | Case was not reported to the police |
Albania has come under a "massive cybernetic attack", the government announced on 18th July 2022, which pro-government media blamed on Russia initially. The main servers of the National Agency for Information Society, which handles many services, were all down on Monday (18.07.2022) after being hit on Friday (15.07.2022) by "an attack from abroad". The shutdown affected the websites of Parliament and the Prime Minister's Office, as well as e-Albania—the government portal that all Albanians, as well as foreign residents and investors, have to use to use a slew of public services. The attacks allegedly come from Russia or Iran (Euronews.al), given that Albania hosts the former Iranian mojahedins (MEK) who are currently being sheltered in Manze, Durres and are considered by the Iranian government as terrorists. There is no final version of who is behind this unprecedented attack that paralysed public services in Albania, 90% of all services are offered via e-Albania and citizens had no access for more than a week.
During this time, different media have published various articles about the hackers, their aim and about the Government's ability to deal with them. The most worrisome story was published by Top Channel (audiovisual media with national Television license and one of the largest media corporates in Albania). According to the initial version of Top Channel, Iran is behind the cyberattack and has obtained crucial data from e-Albania and is demanding 30 mln Euro from the Government to give back the information hacked. The story published by Top Channel had no convincing evidence or sources.
Prime Minister Rama immediately took to Twitter and slammed Albanian media (Top Channel) for spreading disinformation about the attack, refuting claims that hackers had demanded €30 million from the Albanian government. On 20th July, Rama tweeted:
"Media lawsuits for defamation, including defamation that spreads panic, are not in the practice of our government! Therefore, I publicly call on TCH to immediately stop the wave of slander and the spread of panic regarding the consequences of cyber aggression on Albania!"
He called Top Channel: A digital blackmailing gang, implying that Top Channel publishes this story in an attempt to blackmail the Government for other purposes/interests at play. Read more here.
After this Top Channel changed slightly the headline and the content of the article, presenting it as doubt and not as a fact.
This is not the first time that Top Channel has been involved in allegations of blackmailing through media coverage or investigative stories (see the story from 1st 2022 April here). This is the first time Edi Rama attacking so openly Top Channel in the past years, given that it has basically served as the mouthpiece of the government.