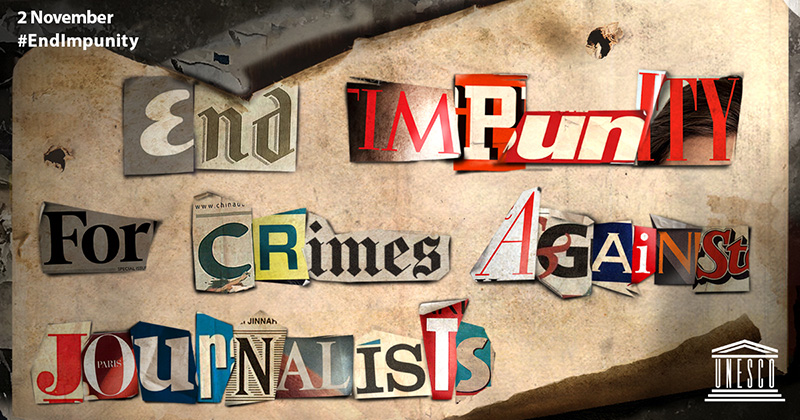 Sarajevo, 01.11.2020. – November 2 is celebrated all over the world as International Day to End Impunity for Crimes against Journalists, and in Bosnia and Herzegovina that date is greeted with an unchanged situation compared to previous years. Frequent threats to media freedoms, pressures, threats and open attacks on journalists and other media workers are present in the daily life of Bosnia and Herzegovina, and concrete progress hasn't been made regarding the adequate processing, sanctioning or prevention of these phenomena.
Although journalists, media workers and professional associations warned of the need for a more adequate solution to the legislative framework, which would make the prosecution of those responsible for threats and attacks on journalists more efficient, there was no reaction from the competent legislatures. At the same time, omissions in compliance with existing laws were pointed out, and numerous threats and attacks on journalists and media workers went unpunished.
Representatives of the profession are particularly concerned about the increasing incidence of online violence, and the growing number of threats that journalists receive through social networks and in comments on Internet portals. The perpetrators of such threats generally go unpunished.
According to the data of the Association "BH Journalists", from the beginning of 2018 to October this year, 143 cases of violation of journalists' rights were recorded, including physical attacks and threats.
58 cases of violations of journalists' rights in 2018 were recorded through the Free Media Help Line within the Association "BH Journalists", including six cases of physical attack, 17 cases of threats and nine cases of political pressure. In 2019, the Association of "BH Journalists" recorded 56 cases of violations of journalists' rights, including nine cases of physical attacks, 21 threats, of which eight death threats and ten cases of political pressure. Since the beginning of 2020, 29 new cases have been registered. In 2019, the institution of the Human Rights Ombudsman received 18 complaints from journalists, compared to nine in 2018.
Previous case law, when it comes to prosecuting attacks, has resulted in a sense of insecurity and insecurity among journalists and media workers in BiH.
Attacks on journalists in BiH – investigations and proccessing