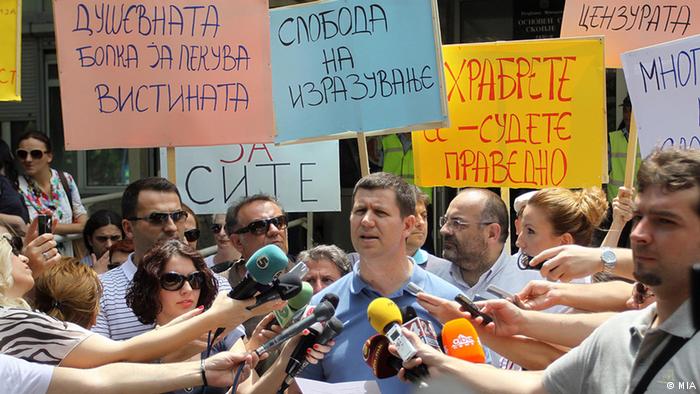 SKOPJE, 09.03.2018. – The Western Balkan's Regional Platform for Advocating Media Freedom and Journalists' Safety, representing more than 8000 members, strongly condemns the latest threats against the president of the Association of Journalists of Macedonia, Naser Selmani.
After the Facebook status Selmani wrote, Bejtula Asani, brother of Bekir Asani – which is related to the political party DUI, sent him death threats via Facebook messenger. Selmani on his official Facebook profile wrote a status where he accused the authorities of not being able to protect the female police officer, that was allegedly attacked by Bekir Asani while performing her duty as a traffic police officer.
After publishing the post, Bejtula Asani sent to Selmani a private message, and in the message, he threatened him, his wife, his kids and his parents. Selmani immediately alerted the police of the incident. The police had a prompt reaction, however, the Public Prosecution after analyzing the message sent to Selmani did not find any elements of threats.
The International community, a day after the incident occurred, condemned the incident. Among those was the OSCE Representative on Freedom of the Media, Mr. Harlem Désir, who tweeted: "Threat and insult that Naser Selmani, President of AJM received for his post on social media are unacceptable. This direct attack on freedom of expression needs to be swiftly investigated and journalists' safety ensured".
During times when journalists in Europe are being threatened and killed for publishing stories against criminals, the national authorities should take swift measures to prevent any further killings of journalists. Tolerance of such incidents and impunity and encourages future violence against journalists.
The Platform strongly condemns the incident and will send letters of concern to all relevant authorities in Macedonia requesting of them to prevent any form of violence against journalists, to urgently and thoroughly investigate all facts about this case and finally start acting accordingly. Also, we will report the case to the Platform to promote the protection of journalism and safety of journalists. In the last three years, AJM has recorded 33 cases of attacks and threats on journalists in Macedonia, including the last incident.
Attacking and threatening journalists is a direct attack on freedom of expression and the right of citizens to be informed. Each attack on journalists is the attack on public interest, democracy and rights of all citizens.
Skopje – Belgrade – Podgorica – Prishtina – Sarajevo – Zagreb, 08.03.2018. 
BH Journalists Association
Trade Union of Media of Montenegro
Croatian Journalists' Association
Association of Journalists of Kosovo
Association of Journalists of Macedonia
Independent Journalists Association Serbia