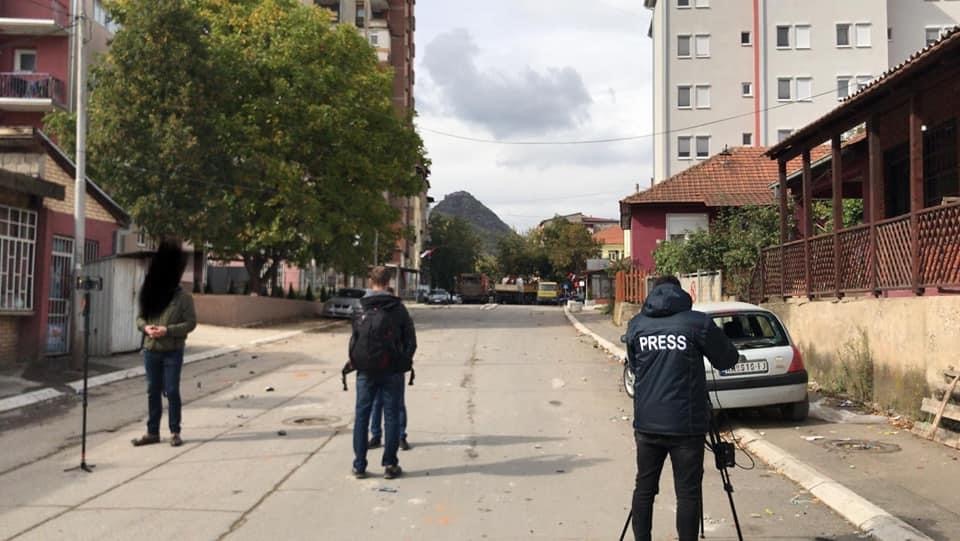 The riots began in northern Kosovo in Mitrovica on October 13, while a police unit from Pristina carried out an operation to prevent smuggling. During these clashes between citizens and police, journalists from KoSSev, T7, Klan Kosova, RTV Dukagjini, ATV and Kanal 10 were attacked and obstructed while performing their duties.
Demonstrators approached Ivan Mitic, journalist of media KoSSev, on several occasions and tried to stop him from filming events on the streets. They asked him why he was recording, they threatened that they would delete those recordings and that they would take away his phone.
On the other hand, according to the reports, several journalists of different Albanian media were attacked in North Mitrovica and another incident occurred on the way to Leposavic where protesters chased journalists with cars.
Ivan Mitic said that he was surrounded by masked protesters at one point and asked him to delete the videos.
"However, there was no physical contact, but other colleagues tell me that they also had unpleasant experiences with the protesters", he said.
Çlirimtar Morina, journalist of media T7, said that "the situation is a reflection of how the citizens feel about journalists and media".
"The environment for doing our job is harsh, and today was a proof of that. Our duty is to inform you, but today our lives were endangered just because we were doing our job", he said.
Xhemajl Rexha, president of the Board of the Association of Journalists of Kosovo, said that "AJK is alarmed with what our colleagues had to go through today".
"Reporting from riots and tensions in the north of Kosovo is always difficult, but today journalists and media operators from both Albanian and Serbian language media were attacked and pressured by local protesters. As their lives were put in danger during the time of reporting, we called urgently on Kosovo Police to protect them. AJK is in close contact with authorities to ensure a safe environment for journalists to do their work", he said.
Safejournalists Network condemns the attack and obstruction of the work of Serbian and Albanian journalists. We call upon the Kosovo Police to provide security for journalists for them to carry out their work in an unhindered manner. Also, we request that they protect journalists during some next protest and prevent new incidents.
We will inform all the relevant national and international stakeholders about this case.
Each attack on journalists is an attack on public interest, democracy and rights of all citizens.
Belgrade – Podgorica – Pristina – Sarajevo – Skopje – Zagreb, October 13, 2021
Association of Journalists of Macedonia
Association of Journalists of Kosovo
BH Journalists Association
Croatian Journalists' Association
Independent Journalists Association of Serbia
Trade Union of Media of Montenegro