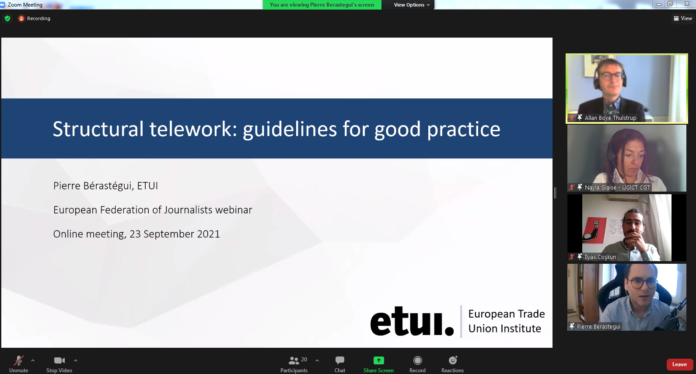 The Association of Journalists of Kosovo – AJK, this year is continuing the cooperation with the European Federation of Journalists – EFJ, within the project "Building Trust in Media in South Europe and Turkey", supported by UNESCO.
In the first cycle of trainings, AJK was represented by Getoarbë Mulliqi Bojaj – Executive Director and Researcher in the organization. In the meeting attended by representatives of Kosovo, Albania, Macedonia and Serbia, she emphasized the damage that the COVID-19 pandemic caused to media.
"AJK in cooperation with EFJ has planned in the coming weeks to organize an informal meeting with freelance journalists and photojournalists from Kosovo where they will be able to present their needs," said Mulliqi-Bojaj.
In these virtual activities, were discussed the rights of journalists in their workplaces with special emphasis on the status of independent journalists and recruitment. The work and activities of the associations and countries participating in the meeting were also presented at the meeting.
During the following activities will be held workshops on various topics, including workshops, communication campaigns, etc.