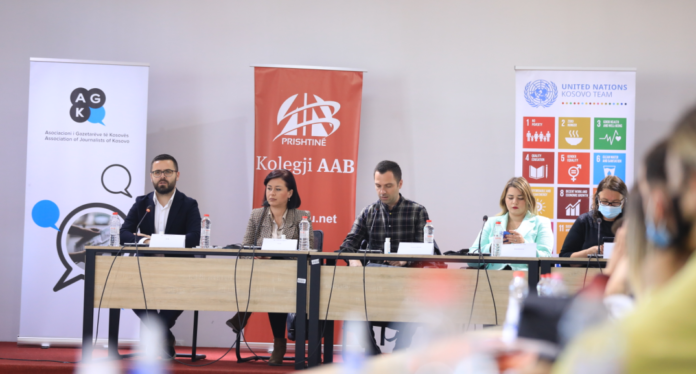 The Association of Journalists of Kosovo – AJK, in cooperation with the United Nations in Kosovo and AAB College, today through a roundtable marked the United Nations Day.
The discussion on fake news and fact-checking during the pandemic in Kosovo took place with the Mass Communication students of AAB College. The panel was hosted by the President of AJK, Xhemajl Rexha, while the panelists were journalists Jehona Zhitia, Bujar Vitija, Arbreshë Uka, Gentiana Hasani and Anđelka Ćup.
The students present were closely acquainted with the difficulties in reporting in pandemic times, as well as the challenges of journalists in combating fake news and disinformation.
UN Day marks the anniversary of the entry into force in 1945 of the UN Charter. With the ratification of this founding document by the majority of its signatories, including the five permanent members of the Security Council, the United Nations officially came into being.
We thank all the agencies of the UN Kosovo Team, especially those who this time supported the cooperation for marking the UN Day and the Journalists' Award for the Eradication of Poverty: Office of the UN Development Coordinator – UNDCO , United Nations High Commissioner for Refugees – UNHCR, UN Operations – UNOPS, United Nations Development Program – UNDP, UN Sexual Health and Reproduction Agency- UNFPA and the Agency for Gender Equality and Women's Empowerment – UN Women.