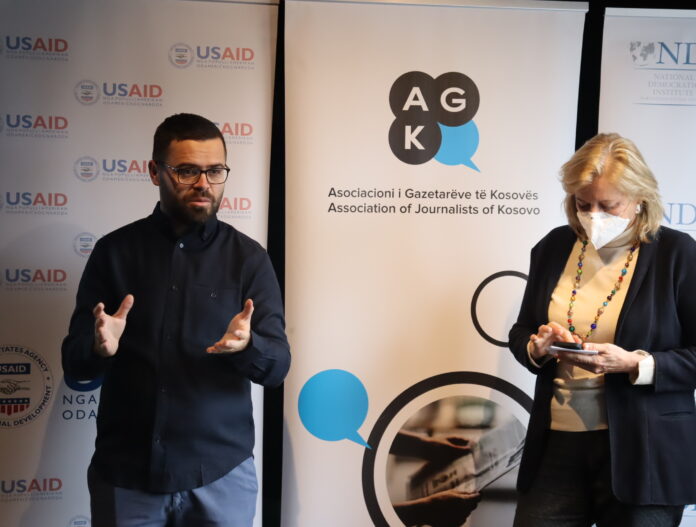 The Association of Journalists of Kosovo – AJK, with the support of the National Democratic Institute – NDI and USAID in Kosovo, organized the first module of Journalists Information Integrity Academy.
At the opening event, Xhemajl Rexha – Chairman of the Board of AJK, Ambassador Nancy Soderberg – Senior Resident Director of NDI in Kosovo and James Evans Butler – Deputy Director – Democracy and Governance Office at USAID Kosovo, addressed the participants, journalism students and journalists.
Rexha, on behalf of AJK, thanked NDI and USAID as very closed partners of the organization, for enabling the Academy, hoping that through these modules best practices for information integrity will be exchanged.
"At this particularly challenging time for information integrity, I believe you will be able to learn best practices regarding the information verification. I urge you to share lessons from the Academy with colleagues in your newsrooms and that this serves also for educating the public."
Ambassador Soderberg emphasized the importance of independent and free media for the proper functioning of democracy.
"In order to effectively prevent and combat misinformation campaigns, it is important to promote professional journalism, as well as to equip journalists with the best knowledge and best practices in combating misinformation."
Meanwhile, James Evans Butler from USAID noted the need to build verification capacity, strengthen election integrity, and properly portray women in the media.
"Educating and training future journalists is essential to maintaining the integrity of information," he added.
In the first module of the academy, the participants together with Dren Gërguri- Lecturer in the Journalism Department at the University of Prishtina, are discussing about fact checking and the information evaluation.
The Journalists Information Integrity Academy will continue with five more modules.