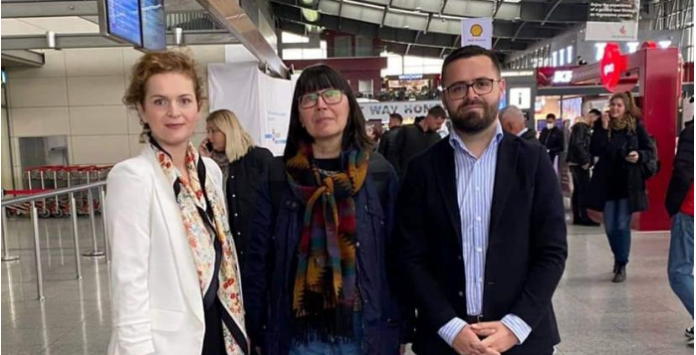 Lyudmila Makey is the first Ukrainian journalist that has arrived today in Kosovo as part of the program "Journalists in Residence in Kosovo".
She was forced to leave Ukraine because of the war. Ms. Makey for now will live in Pristina, and AJK will ensure that she will continue to do her job from here.
Local and international public institutions for weeks now have made all the necessary preparations to receive the journalists from Ukraine.
Ms. Makey said that it is dangerous to be a journalist in Ukraine citing the fact that the forces of the Russian occupier so far have killed 21 journalists in Ukraine.
"I thank all of you very much for enabling me to come to Kosovo. This program enables me to remain in the profession of journalist. I am deeply touched by the fact that completely foreign people want to help us. I believe that our cooperation and solidarity from other journalists is an important step towards peace."
"Journalists in Residence in Kosovo", is a program established by the European Centre for Press and Media Freedom (ECPMF) and the European Federation of Journalists (EFJ), and is financed by the Kosovo government.
The program is being implemented by the Association of Journalists of Kosovo with the support of two journalists' unions in Ukraine. This program covers their living costs, wages, and offices for a period of up to six months.
Ms. Makey was welcomed at the airport by Xhemajl Rexha (AJK), Flutura Kusari (ECPMF), as well as the representatives of the Ministry of Interior and the Kosovo Police.