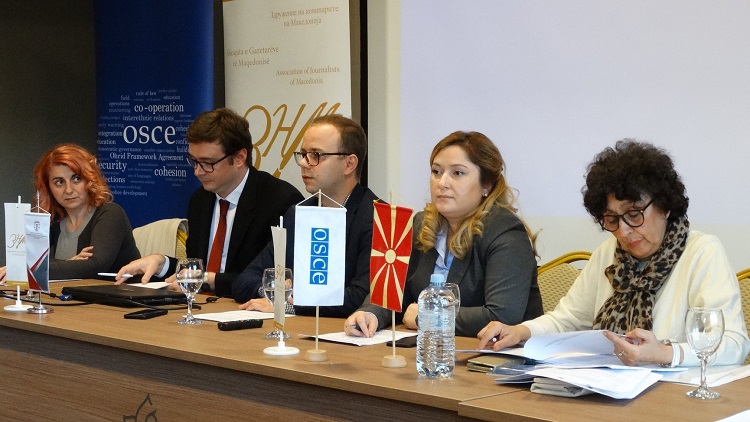 SKOPJE, 25.11.2019 – The Association of Journalists of Macedonia in cooperation with the Academy for Judges and Public Prosecutors and the OSCE Mission to Skopje organized a workshop on "The safety of journalists and media workers and the restriction of freedom of expression". The workshop was held from November 20-21 at the "Gardenia" Hotel in Veles.
Among the topics covered at the workshop were the security of journalists and restrictions on freedom of expression under the Council of Europe's European Convention on Human Rights. It was also discussed about hate speech in the media and on the internet through domestic and international regulation and practices in Europe.
The event was attended by journalists, judges, public prosecutors and lawyers who follow and work on this issue. It was emphasized that judges, prosecutors and lawyers play an essential role in protecting media freedom and access to information. On the other hand, it was pointed out that the judiciary has an impact on the security of journalists in terms of prevention, protection and prosecution of crimes and attacks on journalists.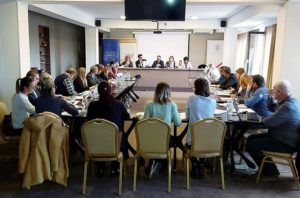 This workshop was led by Margarita Caca Nikolovska (former judge at the European Court of Human Rights), Ph.D. Snezana Trpevska (RESIS Institute), Emilija Petreska – Kamenjarova (Agency for Audio and Audiovisual Media Services) and Ivan Breshkovski (lawyer).
This workshop was organized as part of the project "Safe Journalists for Credible Information in North Macedonia" implemented by the Association of Journalists of Macedonia and supported by the Embassy of the Kingdom of the Netherlands in North Macedonia and the OSCE Mission to Skopje.