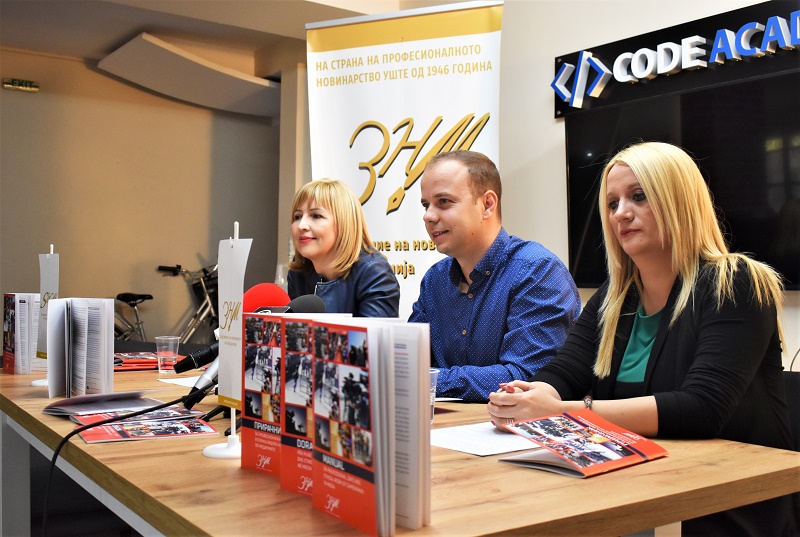 SKOPJE, 01.10.2019 – The Association of Journalists of Macedonia today presented a new publication with the title "Manual on professional, safe and ethical work of cameraman in media". The publication was created in order to illustrate the obstacles, challenges, and opportunities that the cameraman profession creates when it comes to media reporting, and to raise the level of understanding and awareness of the circumstances in which the cameraman work.
The authors of the publication Marina Tuneva and Marijana Marushic Kos, as well as the director of AJM, Dragan Sekulovski addressed the audience during the promotion. According to Sekulovski, this manual came as a requirement and necessity of the AJM cameramen section. He thanked the members of the cameraman section Trajce Ilievski and Slave Stojanovski who selflessly assisted in the preparation of this publication.
The author  Marina Tuneva said that cameramen are always the best sources for the events they attend, and that they are often in a difficult position, facing with various limitations. "The focus of this publication is on the work of cameramen in terms of universally accepted ethical principles for fair, impartial and objective work, as well as on the national legal framework and the provisions that directly affect this profession," said Tuneva.
On the other hand, Marijana Marushic Kos said that media have a difficult task to assess whether information about a particular event is in the interest of the public and to balance the right of the public to be informed and the right to privacy of individuals. "This balance is difficult to achieve by direct application of a specific legal norm, and requires lots of experience and knowledge and good judgment by journalists and cameramen in each case," said Marushic.
This publication was prepared in the framework of the project "Safe Journalists for Credible information in Macedonia" supported by the Embassy of the Kingdom of the Netherlands in Skopje. Content of this publication is sole responsibility of AJM and the authors and can in no way reflect the position of the Embassy of the Kingdom of the Netherlands in Skopje.