PRISTINA, 15.10.2020 – The Association of Journalists of Kosovo (AJK) is presenting the work and the challenges of the organization and of the journalists during the pandemic in webinars organized by the European Federation of Journalists.
Participants in the webinar were the Executive Director Getoarbë Mulliqi Bojaj and Project Coordinator Vesa Bala. They talked about training and other online activities organized by AJK, protective gear provided to the community we represent, legal aid given, and the monitoring of journalists cases. They also announced the publication of the report "Impact of the COVID 19 pandemic on the economy of the journalists, cameramen, and photojournalists."
Through webinars it is aimed to evaluate the consequences of the pandemic on journalists' associations and unions, in Western and Southeastern Europe in terms of financial resources, membership, and our ability to carry out the planned activities.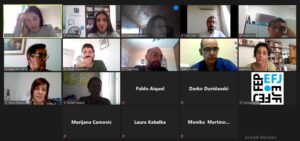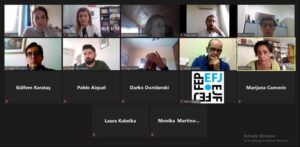 , ,