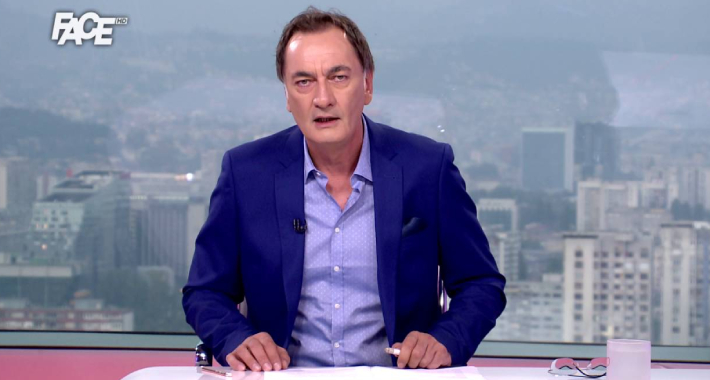 SARAJEVO, 31.10.2022. – The Steering Committee of the BH Journalists Association invites the Council of the Communications Regulatory Agency (CRA – RAK) to analyze in detail the statements of CRA general director Draško Milinović regarding his announcements of "rigorous sanctions" for Face Television and the editor of this media outlet, Senad Hadžifejzović, and to determine whether Milinović, as the director of the Agency, violated the provisions of professional and ethical performance of duties.
Yesterday, Milinović stated that the CRA initiated proceedings ex officio against Face Television, and announced that "they will go for the highest possible sanction" because Senad Hadžifejzović allegedly asked a guest in the program whether Milorad Dodik should be "killed". Although from the controversial recording, which was transmitted yesterday by numerous media, it is not possible to clearly discern what exactly Hadžifejzović said, the director of the Communications Regulatory Agency "judged" Hadžifejzović and Face Television in advance, which represents a precedent never before registered in the work of CRA.
The Steering Committee of the BH Journalists Association emphasizes that no director of the CRA, nor any other sector within the Regulatory Agency, has ever spoken about sanctions to the electronic media before the proceedings were completed and all the actors of the disputed case had been heard. The statements of Draško Milinović represent direct pressure on Face Television, as well as the abuse of the regulator and its independent position, and the introduction of a practice that can cause incalculable damage to other media in BiH – CRA license holders.
It is indisputable that a detailed and independent investigation which will precisely determine what exactly Senad Hadžifejzović said should be conducted in this case, and possibly take legal and ethical measures in accordance with the established facts. However, politicizing the case even before establishing the facts and content of the contested statement is illegal and contrary to the provisions and Code of the CRA.
The Steering Committee of BH Journalists especially points out Article 8 of the CRA Code of Ethics, which states that "members of the Council of the Agency and the General Director must not abuse their authority and allow personal interests and relationships to result in situations that may affect the possibility of objective judgment, as well as professional and ethical performance of duties and work obligations".
The statements of the CRA director announcing "rigorous" measures and sanctions for Face TV even before the procedure has been carried out represent an obvious violation of the provisions of the Code and require an immediate reaction of the CRA Council, with the aim of protecting the professional and independent work of this regulatory body.