PRSITINA, 01.12.2020 – The Association of Journalists of Kosovo – AJK, considers completely unacceptable the offensive language and threats from the member of the Democratic League of Kosovo – LDK, Melihate Tërmkolli, towards the journalist of Television 7, Arsim Lani.
Tërmkolli yesterday through an electronic message sent after the show 'Frontal' led by Lani, called him "junk" and "impudent", because as the journalist told AJK, she had not been notified in advance for the other guest in the studio. In addition to the insults, she also threatened the journalist, saying that "he will pay for the effort and the cold she got to go there" that, according to her, Lani caused.
AJK finds it concerning that journalists are still victims of such insults by political officials. Such denigrating language used by Termkolli is completely unacceptable and violates the freedom of expression and the media.
AJK calls on political officials to recognize the role of journalists in a democratic society and to refrain from insulting them.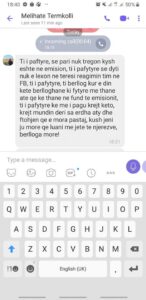 , ,