PRISHTINA, 21.05.2019 – the Association of Journalists of Kosovo has met Fanny Sebban, the official responsible for Kosovo at the French Foreign Ministry's Office for Foreign Affairs and Carole Blestel-Feffer, Deputy Ambassador of France in Kosovo.
Gentiana Begolli Pustina, the President of AGK's board, informed them about the latest developments of the organization, mission, projects, and contribution of AGK to professional journalist upgrading.Begolli Pustina also requested the support of embassy to AGK, such as the capacity building of the organization and the increase of concrete activities in the training of journalists, advocacy of journalists' rights and their security in Kosovo.
Sebban estimated highly the role of the organization in improving quality and open journalism as well as the position of journalists in Kosovo.
Deputy Ambassador Blestel Feffer also praised AGK's work to advance the position of journalists and further professional upgrading.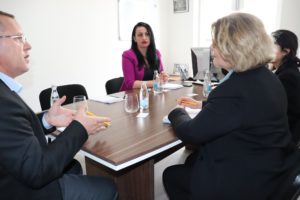 , ,