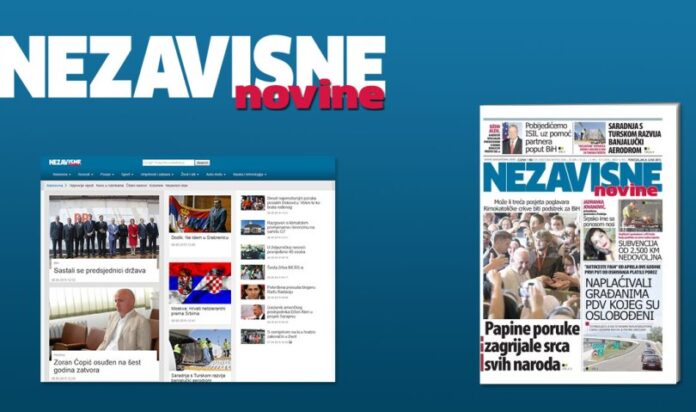 Banja Luka / Sarajevo, 13 August 2021 – The Steering Committee of the BH Journalists Association publicly demands from the Cybercrime Unit of the Ministry of the Interior of Republika Srpska (MUP RS) an urgent investigation into hacker attacks on "Nezavisne novine" portal from Banja Luka (www.nezavisne.com). The DDoS hacker attacks began on Tuesday, August 10, and continue with undiminished intensity and with the obvious intention of preventing the editorial office of "Nezavisne novine" from publishing news and other content of importance to the public.
Given that the hacker attack, regardless of where it comes from, is a serious violation of journalists' rights and stifling media freedom, the Steering Committee of BH Journalists considers it necessary for the RS MUP to conduct an efficient and thorough investigation of this case, and to identify and sanction perpetrators in accordance with the law.
The Steering Committee of BH Journalists assesses that hacker attacks are part of the deliberate efforts of individuals and groups trained to stifle media freedoms and prevent journalists in their daily work, as well as a direct attack on media whose editorial policy is disliked by political or other centers of power. In this context, BH Journalists draw attention to the fact that online media outlets in Bosnia and Herzegovina have been increasingly exposed to hacker attacks in recent years, which not only threaten freedom of expression and information, but also jeopardize the economic survival of these media and their employees. We remind that in February 2021, the online portals Žurnal and Nomad from Sarajevo and Buka from Banja Luka were exposed to strong, daily hacker attacks. It is not known whether and how those who stand behind these attacks are sanctioned.
The Steering Committee of BH Journalists also believes that, in addition to developing special security tools to combat DDoS attacks in media outlets, the most effective measure to prevent such attacks is to detect and punish those standing behind them. Police and cybercrime experts have the greatest responsibility, legal and technical preconditions in this fight, as well as a foothold in the Council of Europe Convention on Cybercrime ratified by the BiH Presidency in 2006, when it became part of the justice system and legislation in BiH.
BH Journalists give full support to their colleagues from "Nezavisne novine" and expect the RS Ministry of the Interior to publish the results of the investigation into this hacker attack, violation of media freedoms and safety of journalists and all employees of this media outlet.
The Steering Committee of BH Journalists Association