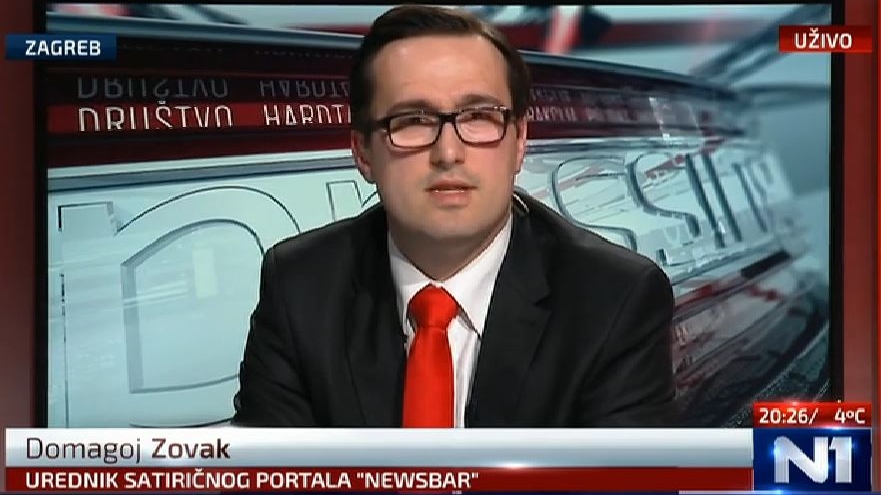 ZAGREB, 21.08.2018. – The Croatian Journalists' Association strongly condemns death threats against our colleague Domagoj Zovak, satirist and editor of the News Bar Prime Time, satirical show at N1 TV.
Domagoj Zovak received death threat after the last episode of his show that addressed recent Day of remembrance of military action Oluja. The threat was published at Facebook and said: "You will get the bullet to the back of your head too, I swear". Man who published the threat published also the bus time-table our colleague Zovak has been using to visit his family for years. The CJA finds that to be evidence showing the threat is serious.
The CJA warns that death threats has become more often lately and reminds the public at the shameful decision of the Split Regional State Attorney to reject criminal charges against Stipe Perković Tabak. Perković Tabak made comment at Index.hr portal: "These journalist should be killed". Those scandalous decisions encourage some persons to threat journalists or anybody else without being punished. The CJA therefore calls upon all relevant institutions in the Republic of Croatia to do whatever is necessary and to punish without any exceptions everyone threatening our colleagues for just doing their job.
The CJA will inform the European Federation of Journalists (EFJ) and other international organizations protecting media freedom and journalists' safety about this case.