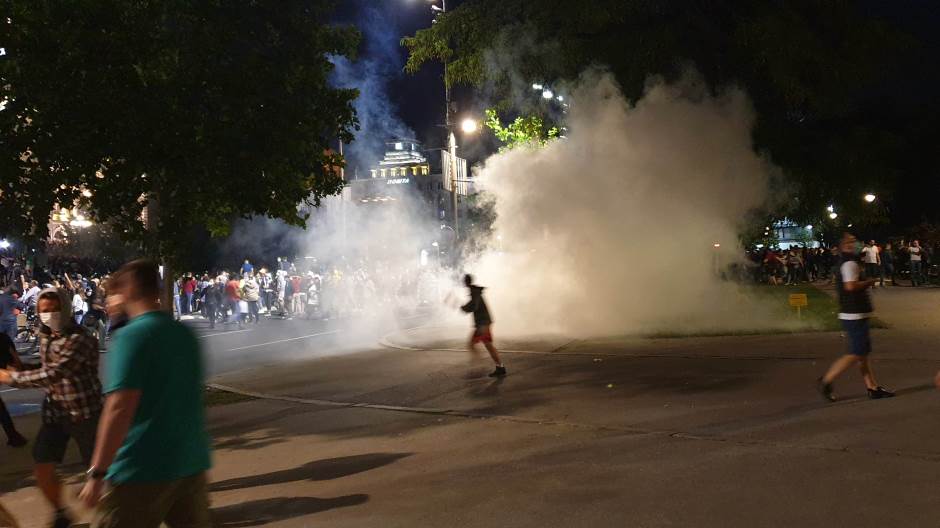 Independent Journalists' Association of Serbia (IJAS) strongly condemns the brutal attacks by the police and protesters on journalists who reported on protests in Belgrade, Novi Sad and Nis during last evening.
According to the information we have, the most severely injured was Beta's reporter Zikica Stevanovic, who suffered head injuries, which is why he was kept in the hospital until morning. The cameramen of the same agency, Luka Predja and Relja Pekic, were also slightly injured. During the evening journalists of Nova S portal were also physically attacked – Milica Bozinovic, was hit by a baton by  a police officer during which the phone she used to record the protests was knocked out of her hands, and as Natasa Latkovic showed her press ID it was thrown to the ground by the police. RTS journalists Milan Srdic and Lazar Vukadinovic were physically attacked by the protesters in Novi Sad. Cameraman Vukadinovic's hand was injured and his camera was broken, while Srdic suffered verbal insults. In Nis, the RTS journalist team experienced physical assaults and verbal insults, and their camera was doused with water by the demonstrators. Journalists from Juzne vesti came to the aid of their colleagues from RTS and prevented further escalation.
Of particular concern is the fact that the police used serious physical force against the journalists, despite the fact that they had previously identified themselves as journalists. Bearing in mind that last night's attacks were more brutal than the ones on the previous night, and that the police obviously do not respond to appeals to protect journalists and not to attack them, we interpret this behavior as a deliberate attack on those whose task is to report to Serbian citizens about  events of public interest.  In this way a message is sent to other journalists that they could suffer the same and it puts additional pressure on them.
We remind that the fundamental task of public authorities is to protect the citizens, as well as to treat attacks on journalists as an attempt to suppress media freedoms and rights.
We call on citizens not to attack journalists and media workers who report from the events, and to protect them if they are able to do so. Regardless of the dissatisfaction of the citizens with the ways in which media houses report, physical violence against journalists is inadmissible.
We appeal to journalists to continue to display journalist accreditations and press cards in visible places so the police and protesters know that they are journalists or members of a media crew.
IJAS will inform all domestic and international organisations that deal with media freedoms and protection of journalists about these attacks and offer legal and other assistance to the attacked colleagues and their media.
We call on all journalists in Serbia to show professional solidarity in order to protect the human and professional rights of their colleagues and the rights of citizens to be informed.
IJAS, 09.07.2020.