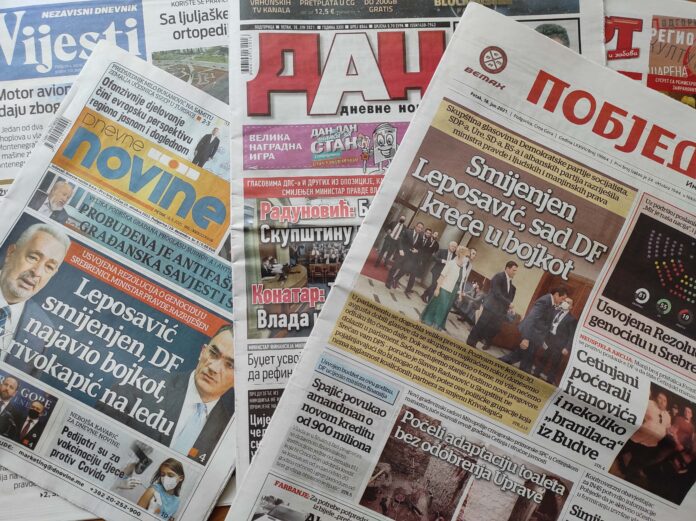 PODGORICA, 4.10.2021 – The Ministry of Public Administration, Digital Society and Media recently completed public consultations regarding the reform of media legislation.
The subject of discussion was the draft law on audiovisual media services, the Law on Media and the Law on the National Public Broadcaster Radio and Television of Montenegro (RTCG).
The Trade Union of Media of Montenegro (SMCG) sent dozens of proposals aimed at improving media legislation.
A significant number of proposals refer to the draft law on audiovisual media services, since it has been in draft form for many years. After it was recently returned with an expert review by the Council of Europe, the ministry offered it to the interested public. The goal of the proposal of the Media Union is mostly to protect the sustainability and independence of local public broadcasters, as media whose employees are in the most difficult position. A number of provisions have also been proposed in order to enable greater transparency in the work of local media financed from public revenues.
Although it has been in use for just over a year, the SMCG has also identified certain problems in the Media Law. Provisions are proposed to additionally protect the integrity of journalists, as well as all other workers who work on creating media content. Also, an amendment to the definition of media content and online publications has been proposed, in order to remove the doubts that currently exist. The subject of the amendment was the introduction of mandatory media registration, as well as the mandatory publication of media records by the responsible authority.
The Law on RTCG is also proposed to be amended, especially when it comes to the election of members of the RTCG Council. The SMCG considers that it is necessary to further specify certain provisions in order to avoid different interpretations. Also, additional regulation of the status of the Ombudsman has been proposed, and additional attention should be paid to the provisions prescribing conflicts of interest. Also, the protection of the integrity of all employees who work on creating media content should be ensured, not only journalists, which is currently the case.
The public consultations lasted until September 27.