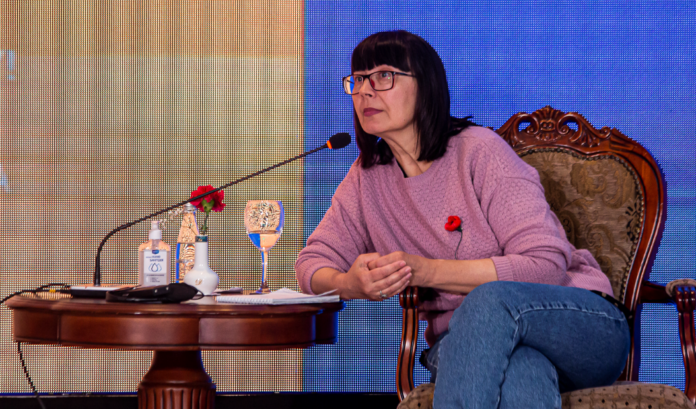 Safety and freedom of journalists during conflicts were discussed in the second part of the conference regarding World Press Freedom Day.
Part of this panel discussion was Lyudmila Makey – Journalist from Ukraine, President of the National Union of Journalists of Ukraine, Sergiy Tomilenko, Saranda Ramaj – Journalist at KTV, and Jul Kasapi a journalist from Albania. They shared their personal experiences while reporting from conflict zones.
Lyudmila Makey – a Ukrainian journalist who is currently living in Kosovo, said that since 24th of February her life has changed, but that she feels very grateful for the given opportunity to continue reporting from here.
"Since 24th of February, many Ukrainian journalists have been unemployed and homeless. I am very grateful for the help that Kosovo offered me, and I am really honored to represent the National Union of Journalists of Ukraine. I felt really good from the first second that I arrived in Prishtina, and that is because of the support that my fellow colleagues have been giving to me, and the readiness to hear my experience. However in one of my interviews, I was asked why they should trust Ukrainian journalists, and for this question, I didn't have an answer till today, and the answer is that you have to trust us so that criminals won't fabricate the truth".
President of the National Union of Journalists of Ukraine, Sergiy Tomilenko, joined the conference via an online video call, expressing gratitude for the readiness of the Government of Kosovo to help Ukrainian journalists.
"It is a great honor for me to participate in this conference. Therefore, I would like to share with you briefly our priorities as a union. Of course, our first priority is the safety of journalists and the assistance of our colleagues who are reporting from the occupied areas of Ukraine. We are trying to evacuate journalists to safer areas of Ukraine. Since the beginning of the war, 24 media workers have been killed, four of whom were journalists", said Tomilenko.
Journalists Saranda Ramaj and Jul Kasapi also shared their personal experiences of reporting from conflict areas.
Ramaj described her reporting from Ukraine as an extraordinary experience and stressed that her intention from the beginning was to report from Ukraine and not the border.
"I think it was more a matter of luck that I managed to get into the Country of Ukraine, due to the fact that we all know about the Kosovo-Ukraine relations and the inability of Kosovan journalists to report from this zone. Personally, I have always thought that I should try to enter Ukraine even though the circumstances are known and for me how problematic it was the lack of experience of reporting from conflict zones because I consider that I am still a young journalist and I have not had a similar previous experience. Therefore, I read more about how to report from these areas and not how to report from the border".
Meanwhile, the journalist Kasapi, shared his experiences of reporting from Ukraine, reporting from Syria in 2019 from the camps where there were Albanians, and the experience of 2021, reporting from a "war zone" of organized crime in Latin America.
"Having in consideration the experience of reporting from Syria, I knew that we should be close to the army. It is well known how journalists "involve" themselves in a military force and then manage to report from there. In Ukraine, it was a bit more difficult, as we did not have the information that we would have to have a military accreditation, but as it happened to all other journalists, I also had a problem with the Ukrainian army because I filmed one of the entry checkpoints in the city and it was supposed to be one of the strategic points that should not be recorded, but this thing happened because we had no experience reporting in a state where martial law works and when I talk about martial law, it means that police of the country also have to ask the military forces on how they should act".
Today's conference was organized in cooperation and with the support of the OSCE Mission in Kosovo and the UN Kosovo Team.