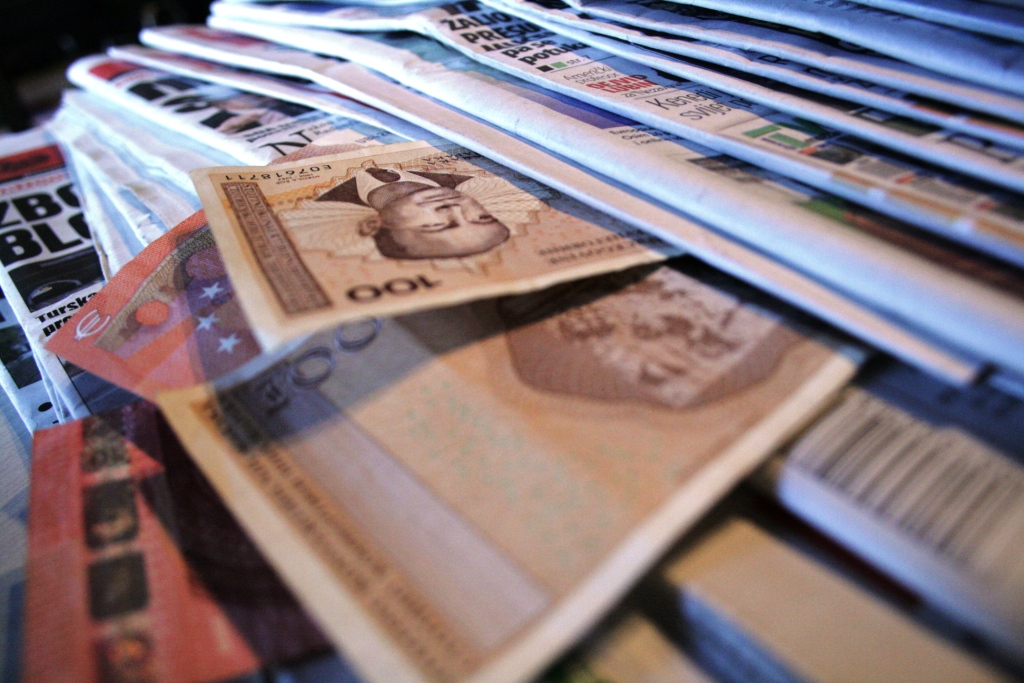 SARAJEVO, 10.01.2018.-Great media systems are exceptionally hard to finance and press and print media houses are even in the worst possible position. Newspapers manufacturing has become the significantly expensive business and there are no guarantees that invested means would return through future incomes, because of the following: significantly decreased number of printed editions and due to a decline, deriving from commercial marketing incomes. Having considered this and during few previous years, great private companies have been extra cautious as far as the spending of money planned for marketing purposes was concerned' the forecast for the forthcoming period does not seem optimistic at all and this does not concern printed media houses only. Pursuant to this, media public media financing, unfortunately, remains as the only option.
A month and a half ago, the text/article titled "How political parties finance their campaigns from public budget money from local communities", was posted and appeared on a local web site. The text contained the parallel overview of public procurement plans for five towns in the Republic of Srpska, for the period from last year until the present, with the particular focus on the community – based and utility – drafted projects, including media financing as well.
The results only proved that certain cities and towns throughout the Republic of Srpska (Banja Luka, Doboj, Prijedor, Bijeljina and Trebinje) increased their local budgets, aimed for roads reconstructions (layering asphalt) and public lighting. These cities and towns shall, under the special logo (titled "Asphalt, light and invite media for follow up"), transfer some BAM 400.000, 00 to the accounts of media houses in the Republic of Srpska. This amount does not include the cities of Banja Luka and Trebinje since they have not yet released and announced the information regarding this project. Many potential voters are still attracted by his kind of approach, although the newly built roads are used mostly by people that decide to leave and abandon this country for good in their quest for a better life abroad. This matter does indeed concern something that is, in the first place, visible and can be felt and touched, that is, it "proves and confirms" that the governing official authorities are actually doing something affirmative and acceptable for their own citizens and the venue accordingly appears as even more significant, especially if the same citizens have plenty of food and drink under booths and tents.
Consequently, the votes are guaranteed, as a result of public "gratitude and obedience". In this way, local communities' budgets become dependent subjects under the control of political parties during the election year period, because there is no better chance ad opportunity for promotions, than cutting of the celebration tape, booth setting, sticking roasted pigs or lambs (meat) on the fire (in some places they even roast bulls), which altogether represents the folklore and "tradition" for the opening ceremony of 1.2 km of recently asphalted road, which shall (apparently) "dramatically" make lives of local communities and citizens significantly easier.
This particular text covered five cities and towns only and their plans in 2018. Things at higher levels are much more serious since amounts at these levels are significantly higher and money aimed for media houses is not directed from public budget sources only; instead, it is directed from the vast number of public enterprises (and they are under complete control of governing and ruling official authorities). According to the recent report by Sarajevo Media Center, public sector allocates tens of millions of BAM to certain media houses and media contents. It seems at least unacceptable, that no appropriate and public access to information details, regarding these allocations, is feasible and can be done, including the crucial information about the amounts allocated to certain media houses and more importantly, procedures and criteria upon which these amounts have been allocated.
The report outlined that the money has been allocated from all administrative levels in BiH, through different procedures and aimed for different purposes, including regular co-financing of public media houses, short – term allocation of financial means for specific media programs and contents covering particular issues and affairs, and other associated individual help, such as allocation deriving from additional and extra incomes from public institutions and enterprises, also directed and aimed to media houses. According to some unofficial and unconfirmed information, media houses receive (on an annual level and from public budget and public enterprises), enormous amounts of some BAM 30, 00 million in BiH. During the period, where (on an annual level), several so-called traditional media channels have been shut down, with printed media houses leading this list and definitely being in the worst possible position of all, this information revealed that without public budget money, the situation in media market would turn disastrous.
It is getting hard and difficult to finance great media systems and printed media is once again in the worst possible position here. Newspaper manufacturing has become significantly expensive and costly business with no guarantees that the money invested shall return through future incomes because of both, the decline in the edition and because of decreased marketing incomes as well. Having in mind that large private companies have lately been extra cautious, as far as investing money in marketing is concerned, the forecast for the forthcoming period does not seem optimistic at all. On the other hand, leading shopping centers and trade centers, including car dealers, are still investing their money in marketing, having their commercial advertisements posted and published with leading and most popular newspapers.
This includes big companies from other business fields, since they dispose of significant money amounts in our market, but there is a question of what benefits they may have as far as this particular type of commercial advertising is concerned, taking into consideration that the scope towards eventual, potential and future buyers and clients, is visibly diminished, due to very low number of published and printed editions. Therefore, it doesn't take extraordinary wisdom to conclude that the most significant piece of marketing cake ends in printed papers, due to some other and completely different schemes and combinations, rather than having a commercial advertisement in printed sources, pursuant to market adequacy.
This kind of specific relationship practically impels traditional media houses to and with their own money, seeks salvation in public enterprises and public budgets, entities and local communities. Consequently, this creates a bedazzled circle of dependability, because it is hard to expect that media houses that practically rely on means deriving from public enterprises professionally outline about the irregularities or even criminal occurrence in their own houses. In this way, company managers, all of them being active political party members, provide media with stability, and also provide them-selves with stability.
To make things worse, there are no indicators that this might change in the forthcoming period, regardless to the question about who shall govern, rule or run and manage the media. Although previous lines may sound as excuses to someone, this issue has not been about justifying; instead, it has been about depressing everyday life and about the situation in which BiH media are in at present time. No media house can rely on, be liquid and finally sustain from RTV Tax Fee incomes; otherwise, public broadcasters would not be desperately mourning and seeking help constantly.
Commercial TV Channels cannot survive through "healthy" marketing service they acquire through audience viewership. Additionally, printed media cannot financially prevail by relaying on printed edition, including web sites that cannot rely on the number of clicks and they are all consequently compelled and to some extent forced, to find alternative solutions and paths in order to sustain and survive in the market. In this context and at present, "most liberate media houses" in BiH are on one hand, those being financed from abroad, but this could, on the other hand, result in with undesirable effects, because the thorough analysis regarding the incomes these media house attain could raise the question of what is the difference between media houses being financed by local governing levels and media houses being financed by foreign governments.
Frankly, there is no difference between the two; both of them, if one should be willing to be mean, could be considered as mercenary orientated categories.
This text is a part of E-Bulletin– eighth edition of special serial of BHN online bulletin implemented through the "Media and Public Reputation" (origin. "Mediji i javni ugled") project, also representing a contribution to public debate regarding the transparency of media ownership and upholding and encouraging the passing of set of laws aimed to advance media field and information market in BiH.