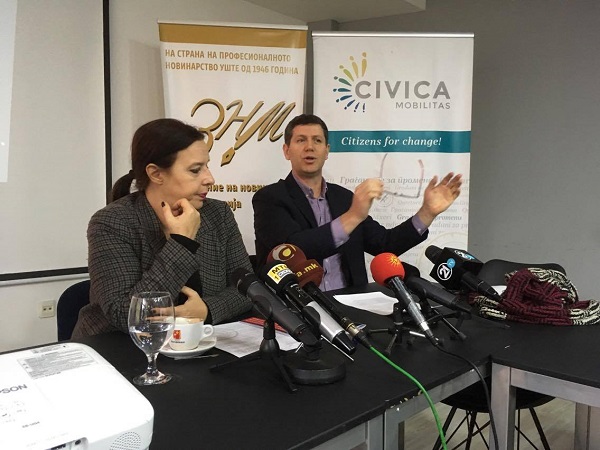 SKOPJE, 23.11.2017 – The Association of Journalists of Macedonia and the Institute for Social Sciences and Humanities, yesterday in Skopje, presented an analysis of the effects of the application of the Law on Audio and Audiovisual Media Services on editorial freedom. The analysis was prepared by expert teams of the Institute and AJM within the project funded by the Delegation of the European Union in Skopje.
The director of the Institute for Social Sciences and Humanities Katerina Kolozova, while presenting the findings from the analysis, said that the Law on Audio and Audiovisual Media Services is too detailed, and even determines which program will be broadcasted when it will be broadcasted.
"The law on audio and audiovisual media services limits the freedom of expression and, moreover, introduces censorship and self-censorship in the media. The provisions of the law are proof of the phenomenon of a "state capture," Kolozova stressed, adding that through excessive legal regulation, the executive power is allowed to over-control the media.
"The most important conclusion of this analysis is that in Macedonia there is excessive regulation of private broadcasting media. The state interferes too much in the process of program creation of private media, which negatively affects the editorial freedom, program quality and financial fitness of the media," said AJM president Naser Selmani.
Selmani explained that the second conclusion from the analysis is that professional ethics of the media should be an object of self-regulation, and it should not be imposed by the state with laws and penalties.
He also spoke about the last draft version of the media law, which allows the government to have the monopoly over the truth. "If this article passes, in future the government will determine the truth in the media. It will have terrifying effects on freedom of speech and media freedom. It will also increase the existing self-censorship and crush the criticism in the media," Selmani said.
Asked about the financing of MRT, Selmani said that 0.7 percent of the national budget for financing the MRT are insufficient funds for normal functioning of the public service.
According to him, cooperation between the civil sector and media organizations is very important. "The involvement of the civil sector in the debate on freedom of speech is a wind in our backs to solve existing problems in the media sector," Selmani said.