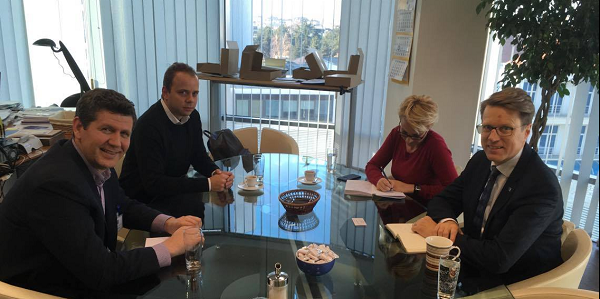 SKOPJE, 13.12.2017 – The President of the Association of Journalists of Macedonia, Naser Selmani, met yesterday with EU Ambassador Samuel Žbogar. On the meeting was discussed the current situation with the media in the country, the upcoming media law, and the deepening of the cooperation.
Selmani thanked the EU Ambassador for the support of the Delegation of the European Commission in Skopje for the AJM and for the reforms in the media. He asked the ambassador to encourage the Government to accelerate the process of adopting the amendments to the Law on Audio and Audiovisual Media Services. According to him, the reforms in the media are as important as the reforms in the security sector and the judiciary. "If there are no free and professional media, there is no one to monitor the process of implementing the reforms in the police and the judiciary," Selmani said.
They also discussed the state of the public service in Macedonia and the ways to improve its work.
Ambassador Zbogar stressed support for the work of AJM and pledged to increase mutual cooperation. According to him, reforms in the media are important and should be carefully implemented.