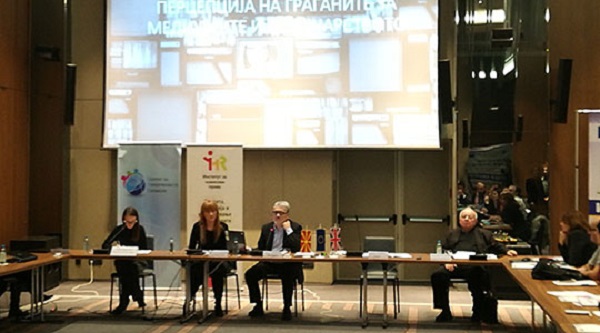 SKOPJE,14.12.2017 – Politicization and the deep division of the media sector have shattered the confidence of the citizens in the media, of which 66.3 percent believes that there is propaganda in the media, 57.9 percent say that in the media there is hate speech and 52.4 percent believe that media is corrupted. Sixty percent of citizens are convinced that media have no influence on their behavior, while half of the people think that media should only inform, and they should not offer solutions.
These were the findings of the survey "Citizens and Journalists on Professionalism in the Media" prepared within the project "Investigative Journalism Guardian of Democracy and Human Rights", conducted by the Change Management Center and the Institute for Human Rights.
According to Goce Pachemski, one of the authors of the survey, 79 percent of the citizens believe that media can be a catalyst for changes in society.
Jasna Bacovska Nedic, co-author of the analysis, pointed out that Macedonia is a television society, where 47 percent of citizens are informed by television.
"Citizens are mostly informed by private televisions, and internet-portals that are increasing their influence more and more. The analysis showed that 86.5 percent of citizens have access to five or more televisions," said Bachovska Nedic.
She pointed out that the analysis showed that journalists have the self-awareness for the crisis and the situation in the media where 71 percent of journalists think that their reputation is low, and a high percentage of 89 believes that they are corrupted. She said that, apart from this fact, 52.4 percent of citizens are convinced that there is corruption in the media.
Bachovska Nedic said that it is interesting that 76,6 percent of journalists believe that they are not specialized to make thematic and investigative journalism, while 92 percent of them said that journalists are not paid enough.
The survey is divided into two polls, the first was conducted between May 30 and June 9, 2017 on a representative sample of 1,203 citizens, while the second part from June 27 to July 10th on 163 journalists. The survey was conducted in Skopje, Bitola, Kichevo, Kumanovo and Tetovo.
Source: www.novamakedonija.com.mk