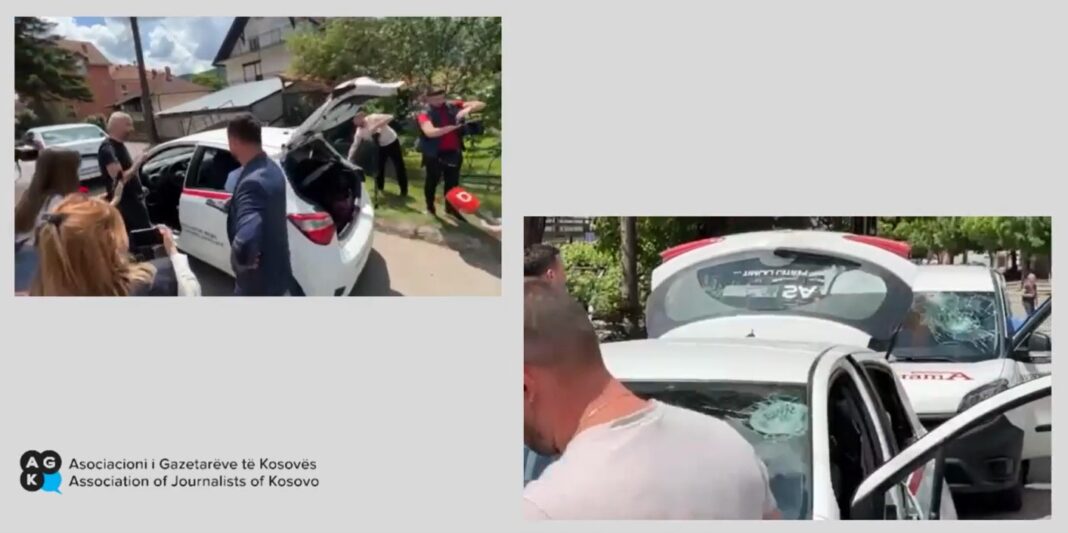 The vehicles of Albanian media outlets A2 CNN, Panorama, and News24, reporting from the northern part of the country, have been vandalized.
Both teams were inside their respective media vehicles during the attack. The assault was carried out with bricks and stones, fortunately resulting in no injuries.
Journalists have stated that despite the presence of KFOR troops at the scene, not only did they fail to react, but they also left immediately without taking any measures to ensure the safety of the targeted teams.
"We were inside the car when we were attacked with stones. Behind us was another vehicle from an Albanian television station. We had parked our cars far away from the municipality of Leposaviq, yet we were still attacked there. Similar incidents have occurred in every municipality, where other Albanian media outlets have become victims. The KFOR forces were standing near us, but as soon as they saw these masked individuals, they left. There is no police presence here. There were 4-5 young people with masks and hoods who attacked us while we were all inside the car," expressed Jul Kasapi, journalist from A2 CNN.
The situation in the northern part of the country continues to be tense, with journalist teams being targeted by protesters everywhere. Once again, the Association of Journalists of Kosovo – AJK, urges peacekeeping forces to ensure a safe environment for reporting, while we urge journalists to exercise extra caution as their safety is not guaranteed at any moment.
For the AJK, this number of attacks is alarming, and they call on decision-makers to establish protocols that guarantee safe reporting for journalists as soon as possible.