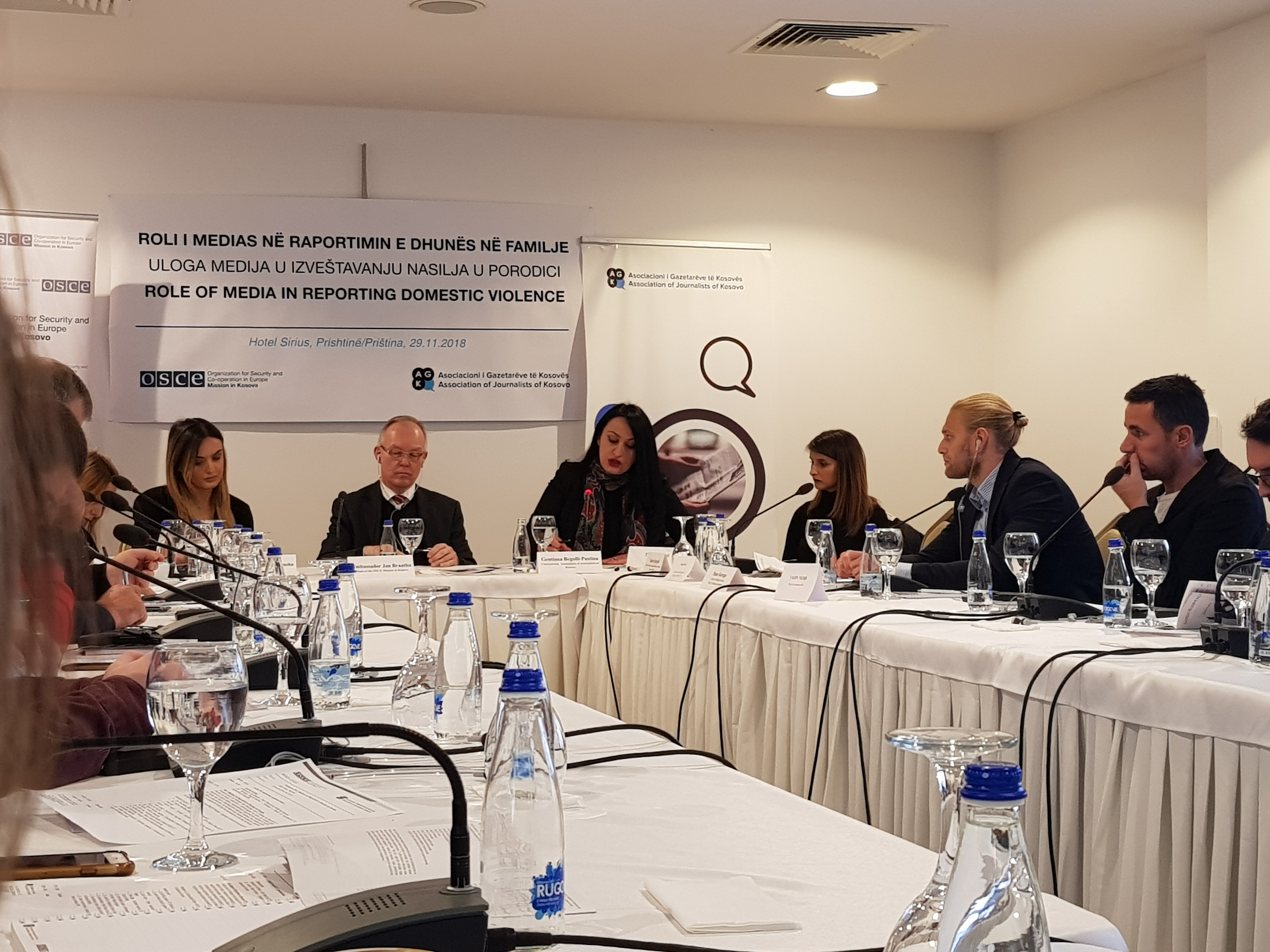 PRISTINA, 29.11.2018 – The Association of Journalists of Kosovo (AJK) in cooperation with the OSCE Mission in Kosovo, held a closing round table on "The role of media in reporting domestic violence".
The round table was intended to evaluate and discuss the role of media and journalists in reporting on domestic violence, the impact they have through reporting and information on awareness rising of citizens and law enforcement agencies in combating and preventing this phenomenon.
The round table also presented the guideline for journalist "Reporting on Domestic Violence" published by the OSCE. Head of mission, Jan Braathu expressed the pleasure of introducing the guideline that will assist all journalists who, through their work, will be able to raise awareness of society in preventing this phenomenon.
Ambassador Braathu said that Kosovo is a small country to have such a large number of violence, and appreciates the role of media in fighting this social evil.
"For cases of domestic violence we have learned from the media, as if you had not reported it, it would have been not reported at all, maybe the OSCE would know, but people in Kosovo should know and have to react, so the media have a very important role. We at OSCE want to support you to report in these very difficult cases. 1,128 cases have been reported to the Kosovo Police for Domestic Violence, and this is a large number for such a small country as Kosovo", said Ambassador Braathu.
In her speech, the chairman of the AJK, Gentiana Begolli – Pustina said that the OSCE has always been a contributor to the media, to help report domestic violence.
"One of the areas where the OSCE has always been an irreplaceable contributor and supporter is the development of free media and freedom of expression as well as the promotion of gender equality, with particular emphasis on engagement and fighting domestic violence. As a result of this work and the very important contribution we are holding today, this workshop focuses on the role of media in reporting domestic violence. "
The president of the Association of Serbian Journalists in Kosovo, Budimir Nicic spoke about the workshop that his organization held in Gracanica for journalists of the Serb community and the importance of reporting domestic violence.
Journalists were part of the panel, Kaltrina Rexhepi-Dragusha from Radio Television of Kosovo (RTK) and Dije Bikliqi from Kohavision (KTV), and both presented their stories and findings about domestic violence. They stated media have great importance in the awareness of the society towards this negative phenomenon.
Other participants were the National Coordinator for the National Strategy for Protection from Domestic Violence, Naim Qelaj, Head of the Sector Against Domestic Violence in Kosovo Police, Tahire Haxholli, Deputy Chair of the Independent Media Commission, Violeta Hyseni -Kelmendi, Women's Network Representative, Adelina Berisha, and representatives of national and local media.