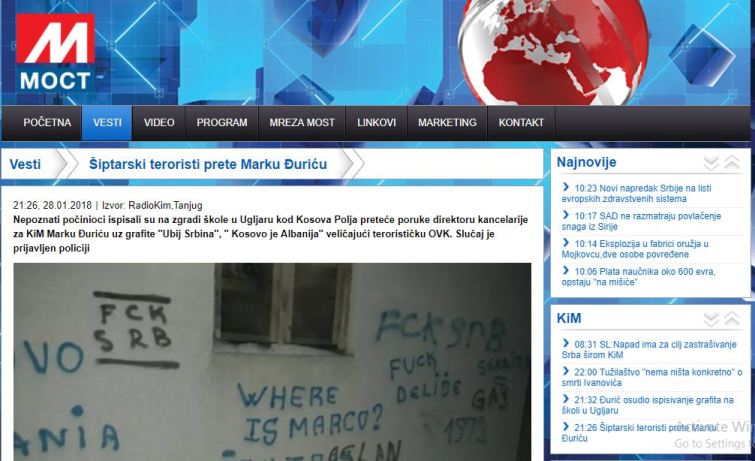 PRISTINA, 29.01.2018 – The Association of Journalists of Kosovo sends fiery criticism to the TV Most with its headquarters in Zvecan because of the use of hate speech in the article "Šiptarski teroristi prete Marku Đuriću".
"TV Most" has published a short news article in the evening of January 28th, 2018 related to the graffiti made in a wall of the primary school in the village of Ugljare, located near Fushe Kosove/Kosovo Polje, where classes are attended by majority of children of the Serbian community.
Subsequently, on the portal of this television, the term "Siptari" was used, which is offensive to Albanians, in the title of the story "Šiptarski teroristi prete Marku Đuriću" (Albanian terrorists threaten Marko Đurić).
Also, this medium has violated the code of ethics by also using the term "terrorists", which was defined like this by the medium itself.
TV Most has used the source of information from another medium for this event, Radio KiM in this case, but it is obvious that the offending title is of the editorial of this television.
AGK considers that TV Most using this offensive term for Albanians has broken not only ethical standards but also international norms that prohibit hate speech and discrimination.
AGK reminds media in Kosovo that hate speech is a criminal offense sanctioned by the Criminal Code of the Republic of Kosovo.