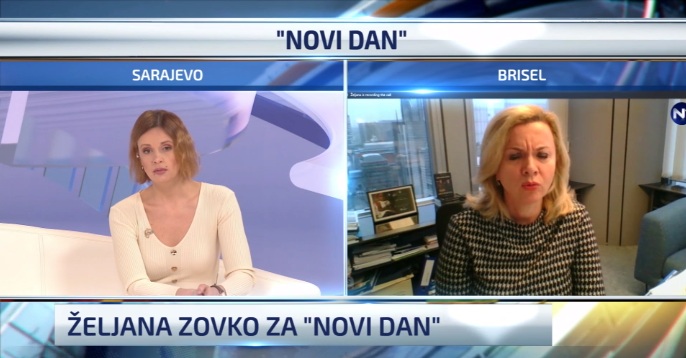 SARAJEVO, 29.01. 2021. – The Steering Committee of the BH Journalists Association sends a public protest to Zeljana Zovko, a representative of the Republic of Croatia in the European Parliament, for her degrading attitude towards journalist in an interview for N1 television, broadcasted on January 28.
Speaking about the current political situation in the region and the EU's role in treating the migrant crisis in BiH, MEP Zeljana Zovko throughout the interview was extremely cynical and insulting towards N1 journalist Minela Jasar – Opardija, answered legitimate questions with counter-questions and efforts to disparage the journalist's work.
"I think this question goes beyond the question of a journalist and the conversation we should have", "you are still quite young, so you have not had time to study some things in history", "I think the question is absolutely inappropriate, it is not my place to interpret anything" , "such questions absolutely do not contribute to reconciliation", "our conversation does not contribute to a productive end and I do not see how we will end this conversation", "if you have any other questions, I will be very happy to answer" – these are some of the sentences and remarks by Zovko when "answering" the questions of N1 journalist.
The Steering Committee of BH Journalists considers it inadmissible for a person who performs such an important function as a member of the European Parliament to treat journalists and the media in such a degrading manner. As a public official, Zeljana Zovko has a responsibility to the citizens and is obliged to answer all journalistic questions, whether pleasant or unpleasant, and not to make a selection, try to edit a TV program or answer only questions that are to her liking.
It is astonishing that Ms. Zovko, who, in her own words, is "lobbying for European BiH" reacts this way in a public television appearance, thus showing a lack of respect for journalists, media and their social role and indirectly endangering media freedoms, which is contrary to European values ​​and standards for which she declaratively stands.
The Steering Committee of BH Journalists calls on MEP Zovko to make a public apology to journalist Minela Jasar – Opardija and N1 television, with the expectation that such appearances will not be repeated.  In the meantime, BH Journalists will inform all relevant domestic and international organizations about this case, which includes sending a protest letter to the European Parliament Group for BiH and Special Rapporteur Paul Rangel.
The Steering Committee of BH Journalists Association