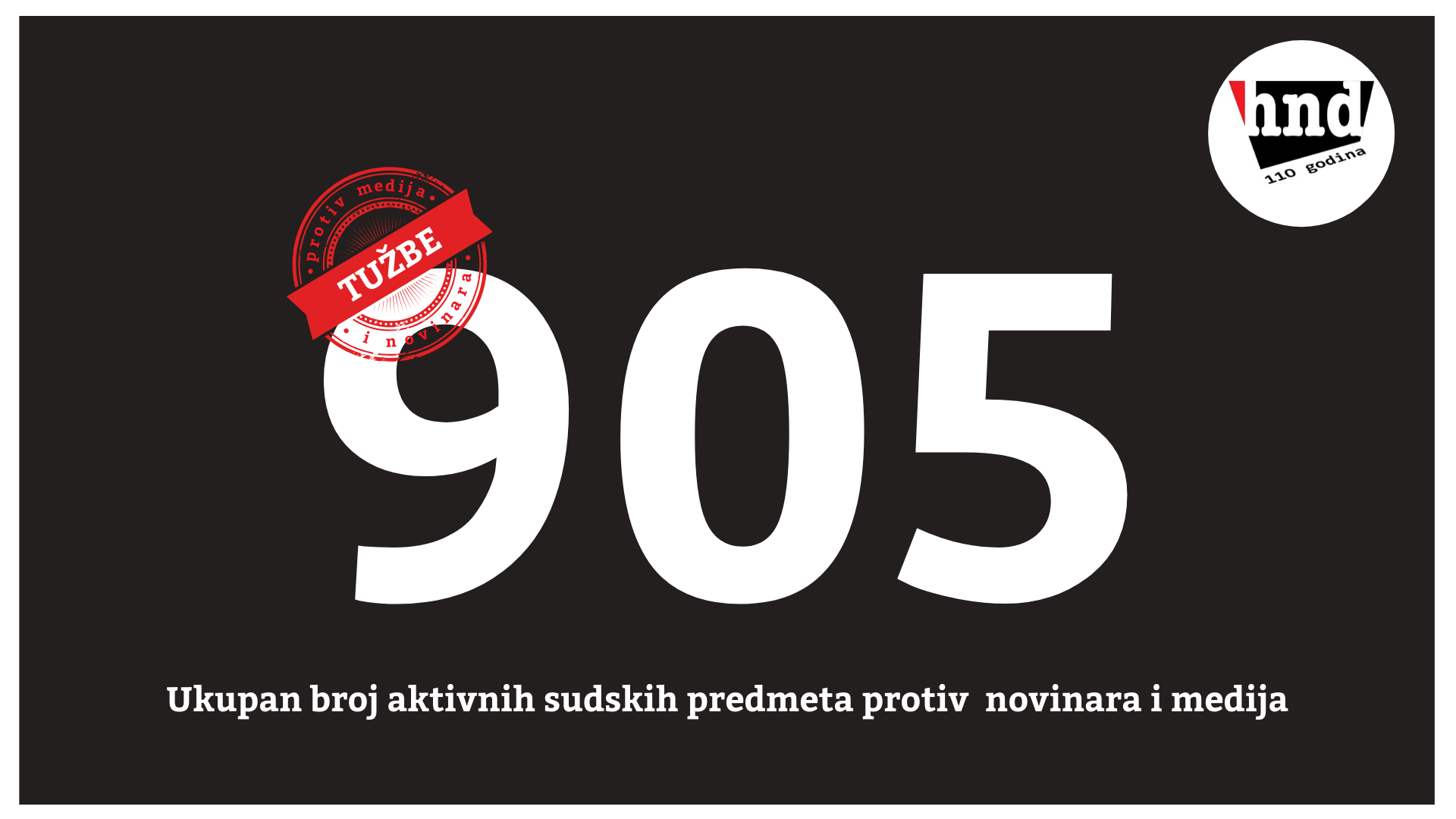 There are 905 current lawsuits against journalists and the media in Croatia, with prosecutors claiming almost HRK 68 million, according to the results of an annual poll conducted by the Croatian Journalists' Association (CJA) earlier this year, published to celebrate World Press Freedom Day (May 3rd). Of the 23 media outlets that responded to CJA's poll, 18 have a current lawsuit over violation of honor and reputation in their journalistic articles.
The largest number of lawsuits are filed against Hanza media (Jutarnji list, Slobodna Dalmacija and Sportske novosti), with as many as 502, weighing an average of HRK 100,000. Styria (Večernji list and 24 sata) follow in the poll, with 170 lawsuits including an average amount per claim of about HRK 156,000.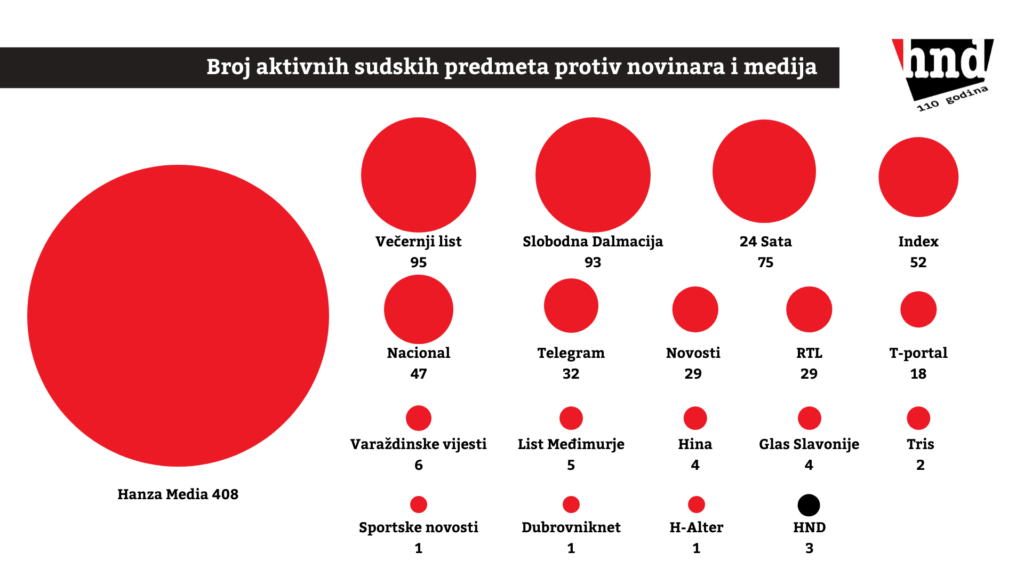 The CJA itself has three active lawsuits. Croatian Radio and Television (HRT) has an active criminal proceeding against CJA's President Hrvoje Zovko, as well as a claim for damages of HRK 250,000, claims against CJA in the amount of HRK 200,000, and within the same lawsuit, a claim for HRK 50,000 against Sanja Mikleušević Pavić, president of CJA's branch at HRT. Let's not forget, this is a unique case of lawsuits by the management of the public media service against its own employees, as well as the professional journalists' association.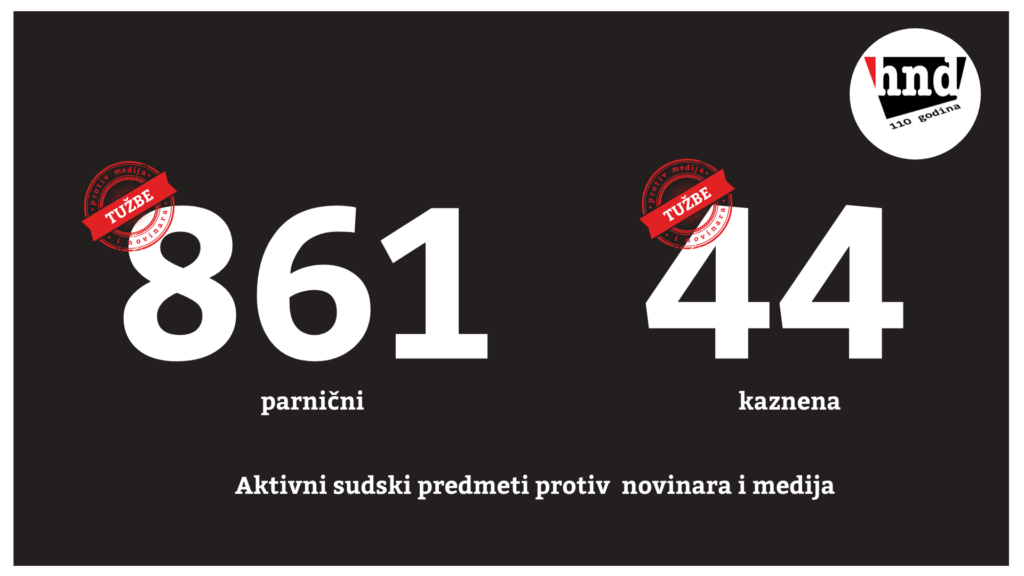 Of the total number of 905 lawsuits, 859 refer to civil lawsuits over violation of honor and reputation led against the publishers, their editors and journalists for published texts and articles, while the other 46 are currently active criminal lawsuits. The most prominent among prosecutors are politicians, businessmen, public figures, local government units, companies, associations, chambers and even judges themselves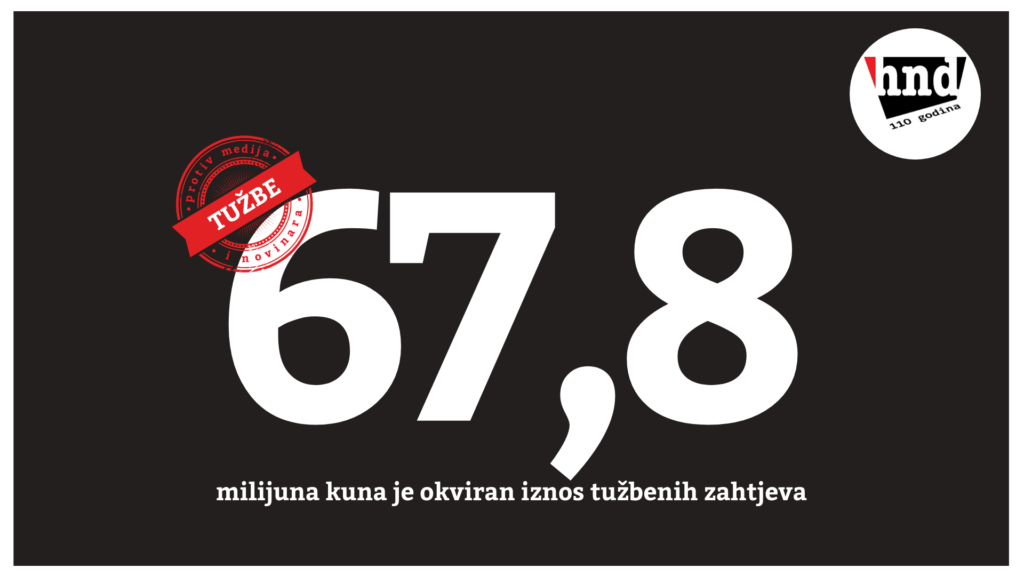 A total of lawsuits covered by CJA's survey claim at least HRK 67.8 million. The amounts of initial lawsuits in civil proceedings are often much higher than the final ones, which says a lot about the effect these actions actually have on the media and journalists – the goal is to intimidate and encourage censorship and self-censorship.
Večernji list, for example, has 93 active litigation cases, in which the average claim amounts to HRK 155,719. In 2019, they had a total of 28 verdicts, with an average amount of HRK 21,919.
"The sum of 905 lawsuits against journalists and the media, although slightly lower than last year, shows that the persecution of the media and journalists in Croatia is still ongoing. It should be noted that the actual figure is higher, as the number of 905 lawsuits make part of the collected data from only 18 media outlets. We want to clearly warn the domestic and international public that lawsuits are the most common means of intimidating journalists and the media to give up serious investigative stories. High compensation claims seek to destroy them financially. Emotional distress seems to be a lucrative business because it is only treated with high compensation claims. Of particular concern is the fact that high-level state officials, local sheriffs, and judges themselves are involved in filing these lawsuits. This war on lawsuits against journalists and the media is a great shame for Croatia", said Hrvoje Zovko, president of the Croatian Journalists' Association, commenting on this year's CJA poll.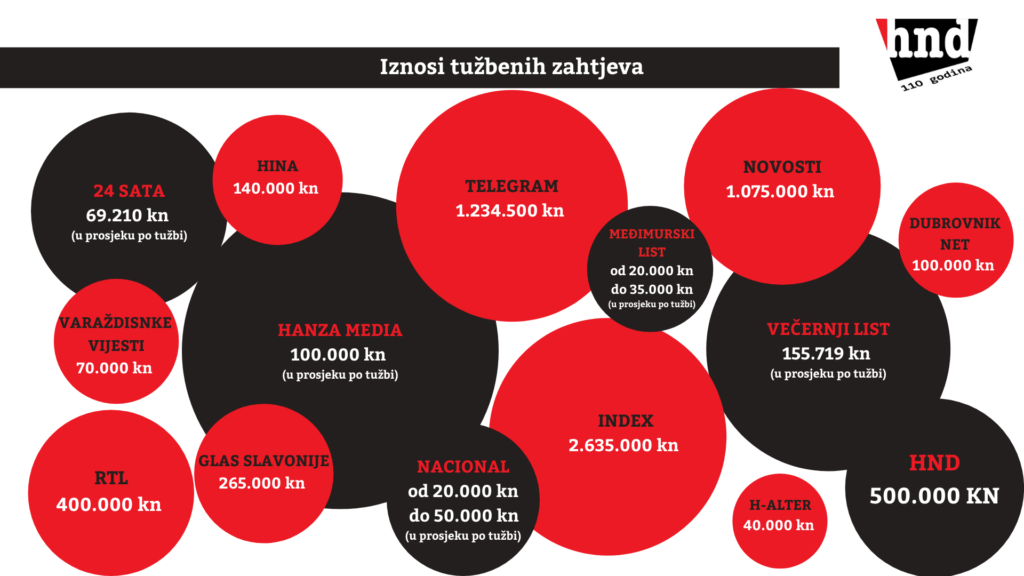 Without regard to this poll, according to information provided to CJA from the Ministry of Justice, the total number of active criminal cases in which the defendants are journalists, in all courts in Croatia as of December 31st, 2019, was 111. Additionally, during last year, a total of 416 civil lawsuits were filed against journalists with claims for damages.
According to last year's CJA poll, which included responses from 19 media outlets, in February 2019, there were 1,163 litigation cases active in Croatia. Although this year's numbers are smaller, these are still cases of SLAPP (Strategic lawsuit against public participation), with lawsuits aimed at censoring, intimidating and silencing critics by burdening them with legal proceedings, a serious and dangerous mechanism that threatens the freedom of media.