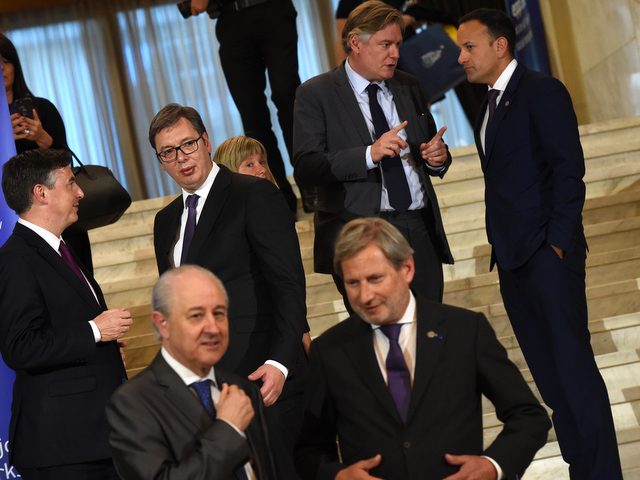 SKOPJE, 18.05.2018 – Media organisations and activists signed a joint declaration calling for the EU to take into account the media freedom situation in member states and candidate countries while awarding funds.
Media organisations, publishers, NGOs and representatives of political parties from across the European Union and the Balkans on Wednesday published what they called the 'Sofia Declaration', urging the EU to prioritise media freedom in Europe.
At an event that took part before Thursday's EU-Western Balkans Summit in Sofia in Bulgaria, they warned of the waning strength and independence of European media and the consequent threat to democracy.
"The establishment of controlled media is the first step to public governance models known as 'mild dictatorships' or 'captured state' which creates serious threats to the normal functioning of democracy, not only in the respective countries, but for the whole EU," the declaration said.
The declaration pinpointed five practical measures to prevent the decline of European media, especially in Central and South-East Europe, under the pressure of repressive legislation, unfavourable financial conditions and physical threats to journalists.
It said that newly proposed rules by the European Commission that would see the distribution of EU funds linked to the state of the rule of law in each country to also include indicators for media freedom.
According to the declaration, the EU proposal to tie funding to the rule of law is too limited and does not explicitly mention freedom of the press as a precondition to receive European money.
The declaration also urged the development of mechanisms ensuring sustainable media financing.
It advocated the creation of a Media Freedom Advocacy Fund to assist activists and publishers in taking legal action against abuses of power by governments and to fund cross-border reporting and investigations.
Publishers also called for the EU to support them in their negotiations with major digital platforms such as Facebook and Google on copyright issues and help them enforce their already existing intellectual rights.
The declaration was adopted at a conference in Sofia hosted by the European Network of Publishers' Associations, the European Federation of Journalists, the Union of Publishers in Bulgaria and the European Magazine Media Association.
It was attended by dozens of journalists, MEPs, media experts and civic activists, alongside representatives of pan-European media bodies including Reporters Without Borders, the Association of European Journalists and the European Centre for Press and Media Freedom.