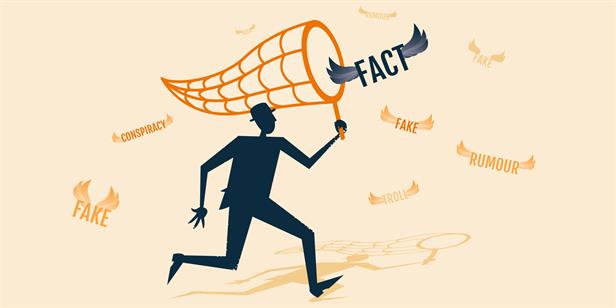 ZAGREB, 12.04.2018. – Veteran journalist Petar Vidov was covering political corruption and organized crime for Index, Croatia's most visited news portal, when talk of a fledgling fact-checking operation caught his attention. He left his high-profile job to help make the startup a reality.
Today Faktograf is part of the International Fact-Checking Network and a signatory to the fact-checkers' code of principles that emphasizes commitment to nonpartisanship, fairness and transparency of sources worldwide. Faktograf, launched in October 2015, has made its presence known on the Balkan media scene.
According to Vidov, the website receives between 30,000 and 40,000 unique visitors each month and has a strong Facebook and Twitter presence. Faktograf's findings are televised as part of a Sunday morning news show on the N1 network, a CNN affiliate for the region, and published by Croatian media outlets.
"Faktograf has been very successful in branding itself as a source of information that can always be trusted. We are very proud of that," said Vidov. "We are gradually attracting more and more readers who regularly contact us, mostly via Twitter, with suggestions on topics to fact-check or investigate."
Stjepan Malovic, a noted Croatian media scholar and author, has high praise for Faktograf and its counterparts around the globe. He views "accountability journalism" as the frontline in the war against fake news and disinformation and calls Faktograf "an excellent website" that holds politicians' feet to the fire.
"People everywhere are tired of fake news and other inventions of corporate media companies and social network gurus," said Malovic, co-author of a textbook on media ethics. "Projects like Faktograf are trying to stem the tide, but it is a slow, painful process. That's why they deserve our support."
From the beginning, Faktograf has been a collaborative effort with other fact-checking initiatives in the region that have provided advice and training.
The initiative is a joint project of the Croatian Journalists' Association and GONG, a civil society organization focusing on accountability and good governance. Vidov credits Jelena Berković, GONG's executive director, with jump-starting the operation inspired by similar outlets in neighboring countries.
Colleagues across the border in Bosnia-Herzegovina run a fact-checking operation called Istinomjerthat helped Vidov create a working model for Croatia. Their information technology department assisted with the design and launch of the Faktograf website.
Faktograf is funded by grants from the National Endowment for Democracy and Google's Digital News Initiative Innovation Fund.
"We feel the impact we have had is significant, but also limited," said Vidov. "Significant because Faktograf has had a positive influence on the overall media landscape in Croatia and has been very well received by the readers.
"Limited because we are a small newsroom. We can only afford to employ three journalists but the fake news machine works around the clock. It's often hard to keep up with all the lies and misinformation that find their way into the public discussion."
He highlights three realities for fact-checkers:
Fake news and propaganda is much easier and cheaper to produce than accurate, honest reporting.

Disinformation spreads much faster and is harder to refute.

Journalists and fact-checkers have mostly been alone at the forefront of this battle.
"The only way to stand up to the ubiquitous digital propaganda is to respond with concrete, indisputable facts," said Vidov.
As Croatia's parliament debated ratification of the Council of Europe's convention on gender-based violence, opponents spread falsehoods about how ratification would undermine family values in the country. Faktograf debunked the disinformation campaign.
There have been instances when politicians corrected themselves after Faktograf fact-checked their statements and proved them incorrect. Recently Faktograf exposed a member of parliament's false claim about genetically modified food. His political party apologized and changed their position.Vidov is in regular contact with other fact-checkers in his area and looks forward to "even closer collaboration on common projects if and when the opportunity arises."
Soon after Faktograf's launch, the Poynter Institute for Media Studies posted a story, "In the Balkans, fact-checking knows no borders."
The author, Alexios Mantzarlis, head of the International Fact-Checking Network, noted, "Fact-checkers tend to be collaborative types, running joint initiatives and supporting news websites they launch across the globe." He pointed to Faktograf as a case in point.
In the future, Vidov envisions a larger newsroom with more dedicated, professional journalists working full-time. "Unfortunately, such expansion is not that easy to plan, since we are a non-profit outlet, funded exclusively by grants from international donors," he said. "Right now, we are making ends meet on a year-to-year basis."