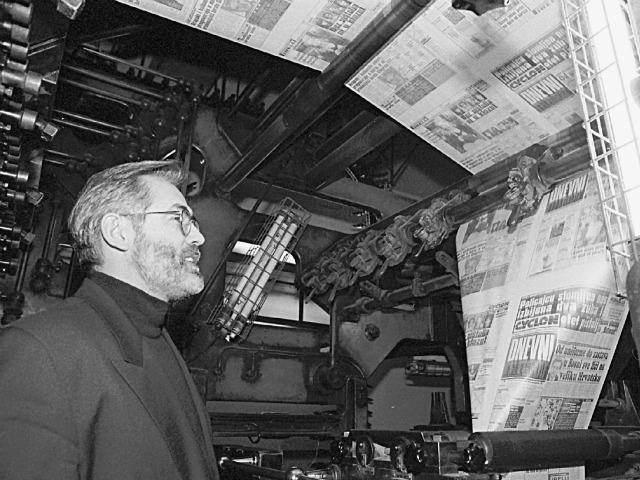 BELGRADE, 04.04.2017. – Former Interior Minister Dusan Mihajlovic told a Belgrade court that murdered opposition journalist Slavko Curuvija's wife said she recognised the interior ministry operative who fired the deadly shots in 1999.
Former Interior Minister Dusan Mihajlovic testified at Belgrade Special Court on Tuesday that Curuvija's wife Branka Prpa told him the identity of the shooter – an interior ministry Special Operations Unit member called Luka Pejovic.
"At the end of my mandate [as interior minister] in 2003, a friend, a historian from the Institute for Modern History, called me and told me Branka Prpa wants to speak with me, she has new information [in the Curuvija case]," Mihajlovic said.
He said that Prpa was afraid for her life before that, and didn't trust the police, so she didn't tell them exactly what she saw at the moment of Curuvija's murder on April 11, 1999.
"She said that the person who shot her friend [Curuvija] wasn't a masked person, she saw his face clearly and she could recognise that man. What happened with that information later, I don't know," stated former minister.
Pejovic was himself shot dead in December 2000.
The second witness at the hearing on Tuesday, Boro Banjac, the former head of the Department for the Fight Against Organised Crime, said that a lawsuit wasn't filed against Pejovic because the prosecutor realised they didn't have enough evidence and Prpa was only 75 per cent sure that he was the shooter.
"If the possibility of recognition was 100 per cent, we would have filed a lawsuit," said Banjac.
He said he didn't know what happened to the case documents afterwards.
Zora Dobricanin Nikodinovic, the lawyer for two of the defendants, insisted however that there is no official document with Prpa's statement about the alleged killer.
"In evidence we don't have the paper about that Branka Prpa recognition," Dobricanin Nikodinovic told reporters.
Curuvija was shot in the back 17 times in front of the building where he lived in Belgrade – a murder that his family and former colleagues believe was motivated by opposition to Yugoslav President Slobodan Milosevic's regime.
According to the indictment, an 'unknown person' ordered the killing and Radomir Markovic, the former head of Serbian State Security, abetted the crime, while three former security service officers – Ratko Romic, Milan Radonjic and Miroslav Kurak – took part in the organisation and execution of the murder.
Kurak was the direct perpetrator, while Romic was his accomplice, it is alleged.
Three of the suspects have pleaded not guilty, while Kurak is on the run and is being tried in absentia.
Markovic is currently serving a 40-year sentence for the murder of former Serbian President Ivan Stambolic and other crimes, while Romic and Radonjic were acquitted in September of the attempted murder of opposition party leader Vuk Draskovic in 2000.
Mihajlovic will continue to testify at the trial on Wednesday.