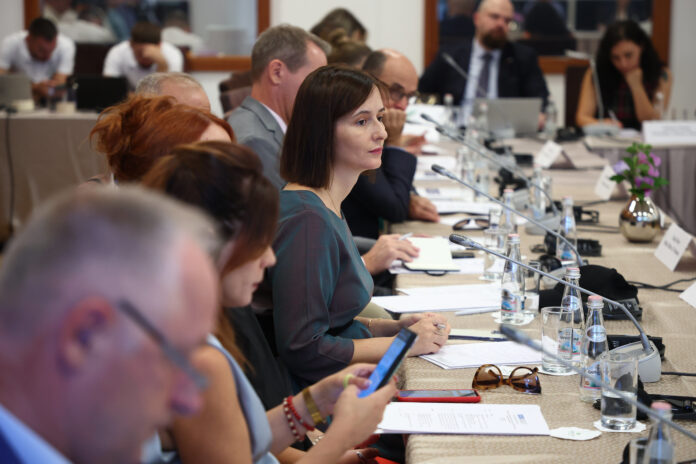 Today, OSCE in Albania brought together media representatives, public institutions, and civil society for the much-anticipated 9th annual Media Development Forum, entitled "Roadmap for Media Freedom: Forging a path for greater journalist protections, independence, and Media Integrity."
This year's Forum delved into pivotal topics, including media policy and the legislative framework governing public institutions supporting media operations, journalist safety, and the transformative effects of artificial intelligence on Albania's media landscape. An essential focus was posed on Albania meeting European Union standards pertaining to media and freedom of expression.
During his opening remarks, Ambassador Bruce Berton, Head of the OSCE Presence in Albania, underscored Presence's unwavering commitment to the noble cause of press freedom and media liberty within the country. "It is crucial that the media are provided the tools and institutional policies to help them navigate the rapidly changing information ecosystem in a responsible and ethical manner. In keeping with OSCE principles that the government has committed to, as one of our 57 participating states, the Albanian public institutions must allow the media the space to operate in an unobstructed way. Thus, we encourage authorities to be mindful of balance and carefully weigh in the dissemination of information that is important for the public to know. Facts must always be allowed to come to light, even they if call for accountability or call out abuses or corruption," Ambassador Berton said.
Joining this esteemed gathering, Teresa Ribeiro, OSCE Representative on the Freedom of the Media, Ambassador Luigi Soreca, Head of the Delegation of the European Union (EU) to Albania, and Giulia Re, Head of the Council of Europe (CoE) Office in Tirana, highlighted their support to press freedom and media community in the country, as well as the significance of the Forum's discussions in this regard.
Engaging discussions during the Forum revolved around the critical importance of transparency, access to information, and the verification of facts as potent tools in the fight against corruption and in the advancement of professional journalism.
During the conference, our researcher Dr. Blerjana Bino highlighted the key recommendations from the Safety of Journalists' Index:
– Zero tolerance 4 attacks on journalists
– Specific protection mechanisms for journalists & media workers under threat
– Efficient investigations & protocols, including for cyberattacks.
Dr. Bino added that the Government must show genuine political will for an inclusive, transparent & accountable structured dialogue to improve media freedom. As Albania seeks #EU accession, it's crucial for all stakeholders to step up their efforts for journalists' safety and media freedom.