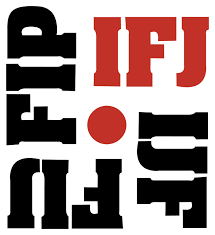 Unverified information, unsourced videos and images from social networks: the war between Hamas and Israel is also a war of communication. The IFJ, the world's leading professional organisation of journalists, reiterates that the professional principles of journalists must be absolutely respected. The duty is to provide information in the public interest.
Two weeks after the start of the war between Hamas and Israel, the communication war is intense, with each side defending "its" truth. Banned from working in the Gaza Strip, an open-air prison for Palestinian civilians, many foreign journalists all too often use secondary sources or "official" sources from each side, without being able to check their veracity. This works to the detriment of citizens, one of whose fundamental rights is "to be well informed".
Confusing haste with speed, many media have published false information and images that have not been contextualised, verified or presented as reliable. This has led some news organisations to make official apologies, such as BBC about their coverage of pro-palestinian demonstrations across Britain or CNN a few days ago, which had claimed that Israeli babies had been beheaded in southern Israel, rightly provoking outraged reactions around the world.
However, article 5 of the IFJ's Global Code of Ethics for Journalists, to which all newsrooms should commit themselves reminds us that "the notion of urgency or immediacy in the dissemination of information shall not take precedence over the verification of facts and sources […]".
In addition to checking its sources, the IFJ calls on newsrooms around the world to "respect the dignity of the persons quoted and/or represented" (article 8) by refraining from publishing shocking images that are often widely shared on social networks. Article 9 of the Global Ethics Charter also reaffirms that "journalists must ensure that the dissemination of information or opinions does not contribute to hatred or prejudice".
In Gaza today, only local Palestinian journalists, the vast majority of whom are members of the Palestinian Journalists' Syndicate, the IFJ's national affiliate, can provide information to the foreign media. It is then up to these colleagues to analyse the images and videos and check the information with several sources in order to inform the public.
IFJ General Secretary Anthony Bellanger said: "Our professional principles, detailed in the IFJ Global Ethics Charter, are the foundation of the journalist's mission. The journalist's responsibility towards the public takes precedence over any other responsibility, in particular towards their employers and the public authorities. I call on journalists the world over not to fall into the trap of information overload, driven by social networks, where saying counts for more than what is said, writing counts for more than what is written, and showing counts for more than what is shown. Respect for the facts and for the right of the public to truth is the first duty of the journalist. At this difficult time, the IFJ, Associate UNESCO member, reaffirms its solidarity with its Palestinian affiliate and its support for all journalists. wherever they are."