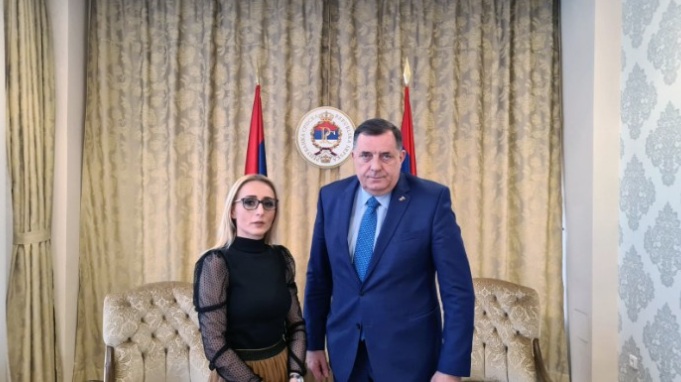 SARAJEVO/BANJA LUKA, March 3, 2022 – The Steering Committee of the BH Journalists Association strongly condemns the direct interference of the member of the Presidency of Bosnia and Herzegovina and the president of SNSD party Milorad Dodik in the editorial policy and program content of the state public broadcaster BHRT.
As it was announced from his office, on March 2, Dodik met with the director of the BH Radio1 program, Pejka Medic, when they discussed "the status of journalists and all employees from Republika Srpska in this media outlet". They also state that Dodik concluded that the all-day BHT program, broadcast on the occasion of the Independence Day of BiH, was "one-sided, absolutely shameful and directed against the Serbian people, especially bearing in mind that this program was not implemented within the Information Program and with the consent of BHT Collegium members." Dodik announced that he would demand the responsibility of those "who approved and participated in the realization of such a program", and reiterated that BHRT, as a public service, must reflect the interest of all peoples in the country "because its functioning is financed also by Serbs from Republika Srpska".
On the other hand, Pejka Medic informed Dodik, as stated from his cabinet, about the "national imbalance since the founding of BHRT, the status of employees from Republika Srpska entity and the pressures they are exposed to."
The superficial assessments of the Serb member of Presidency of BiH about BHT program "directed against the Serbian people" only deepen divisions in society, but also confirm the perception of citizens that the three public broadcasters for years have been under direct political influence of national leaders and politicians, from whose interests and will depend the very existence of journalists, editors and all other employees of public broadcasters.
Milorad Dodik's false statement that the work of BHRT is "financed by Serbs from Republika Srpska" is especially significant, since BHRT currently demands at least 60 million marks from RTRS, which Republika Srpska public service retains in its budget outside the provisions of the Law on Public RTV system of BiH. Due to the illegal actions of RTRS and the difficult financial situation, the BHRT management has fired 84 employees since the beginning of this month, among whom are journalists residing in both entities, and not only from Republika Srpska, as some media from this entity claimed.
The Steering Committee of BH Journalists emphasizes that if Milorad Dodik and Pejka Medic really want to work on strengthening BHRT as a public service of all peoples and citizens in Bosnia and Herzegovina, they should call on RTRS as of today to start fulfilling its legal obligations to BHRT, and together insist on the complete independence of all public broadcasters, depoliticization of work of elections of management boards and management, as well as the establishment of an efficient model for collecting RTV fees.