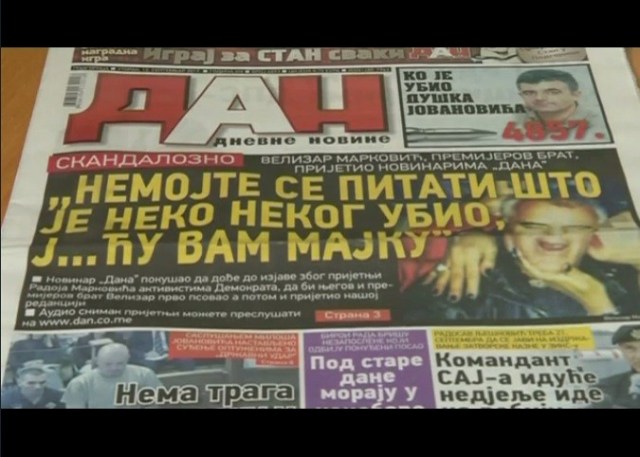 Photo: PrintScreen: TVCG
The Western Balkans Regional Platform for Advocating Media Freedom and Journalists' Safety, which represents more than 7800 members, strongly condemns death threats directed to Vladimir Otasevic, the journalist of the newspaper Dan, by Velizar Markovic, the brother of Montenegro Prime Minister Dusko Markovic.
In a phone call on yesterday evening, along with many primitive and vulgar curses, Markovic said to Otasevic: "If you will f**k on my back politically trying to understand things, then don't ask yourself why somebody got killed. Do you get it?"  Also, he told Otasevic "that he will be found", which is also a threat. Otasevic had previously written about the property of the Prime Minister Markovic's family, and the property of his brother, Velizar Markovic which irritated him. Otasevic called Markovic yesterday to ask for his other brother's number.
"The death threat to our colleague Otasevic is the most serious incident that has occurred in the Montenegrin journalist community in almost two years. At the same time, it is also an indicator that the situation has not changed, and that all that is needed is a small incentive for those who feel powerful enough in a country that does not condemn attacks on journalists, to give themselves a freedom to threaten and curse people who are doing their job, " said Marijana Camovic, president of the Trade Union of Media of Montenegro.
The Regional Platform strongly supports TUMM and other journalists' and media organizations efforts in protection of journalists and freedom of speech in Montenegro. The Regional Platform calls authorities, police and judiciary in Montenegro to provide free and safe working conditions for journalists and media, to investigate this case and show that they do not tolerate this type of crime, regardless who the perpetrator is.
From the beginning of the year in Montenegro has recorded 7 cases of threats to journalists including the threats to Otasevic, the last and the most serious one
Any attack on journalists is an attack on the public interest, democracy and the rights of all citizens.
Skopje – Belgrade – Podgorica – Pristina – Sarajevo – Zagreb, 13.09.2017.
BH Journalists Association
Trade Union of Media of Montenegro
Croatian Journalists' Association
Association of Journalists of Kosovo
Association of Journalists of Macedonia
Independent Journalists Association of Serbia