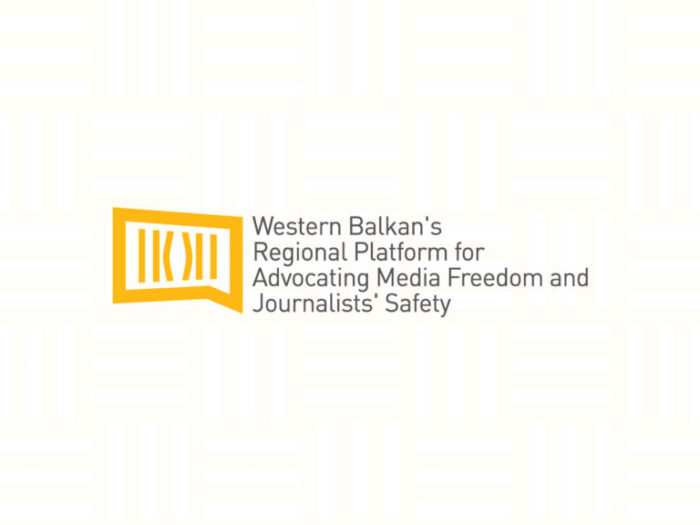 PODGORICA, 01/06/2020. – The Western Balkan's Regional Platform for Advocating Media Freedom and Journalists' Safety, which represents more than 8,000 members, asks that Montenegrin journalist Andjela Djikanovic urgency be released from detention and that any possible proceedings against her be initiated when she is free.
Djikanovic was detained and retained for up to 72 hours on suspicion of committing the crime of panic and disorder after she published that 250 members of ROSU, a special Kosovo unit, would be available to Montenegrin police on Christmas Eve. The news was soon denied by the Government of Montenegro. FOS Media, a portal whose editor-in-chief is Djikanovic, withdrew that information about an hour after the disputed news was published and apologized for its publication. On the evening of January 5, Djikanovic was detained and she is still in custody.
"The detention and retained of the journalist we consider like an overreaction by the Montenegrin prosecution and demand that she be released immediately and she must have a possibility to defend herself from freedom if any proceedings are initiated against her. These days, tensions in Montenegro are certainly high, but the arrest of journalists will not contribute to lowering them", said Marijana Camovic, President of Trade Union of Media of Montenegro.
The Regional Platform for Advocating Media Freedom and Journalists' Safety considers inadmissible to arrest journalists, and in this case, it should be noted that Djikanovic withdrew the controversial news immediately after it was denied, or an hour after it was published, which is too short to cause panic in Montenegro. She also immediately apologized for the incorrect information and thus indicated that she did not intend to cause panic and disorder.
Skopje – Belgrade – Podgorica – Prishtina – Sarajevo – Zagreb, 06.01.2020.
BH Journalists Association
Trade Union of Media of Montenegro
Croatian Journalists' Association
Association of Journalists of Kosovo
Association of Journalists of Macedonia
Independent Journalists Association of Serbia