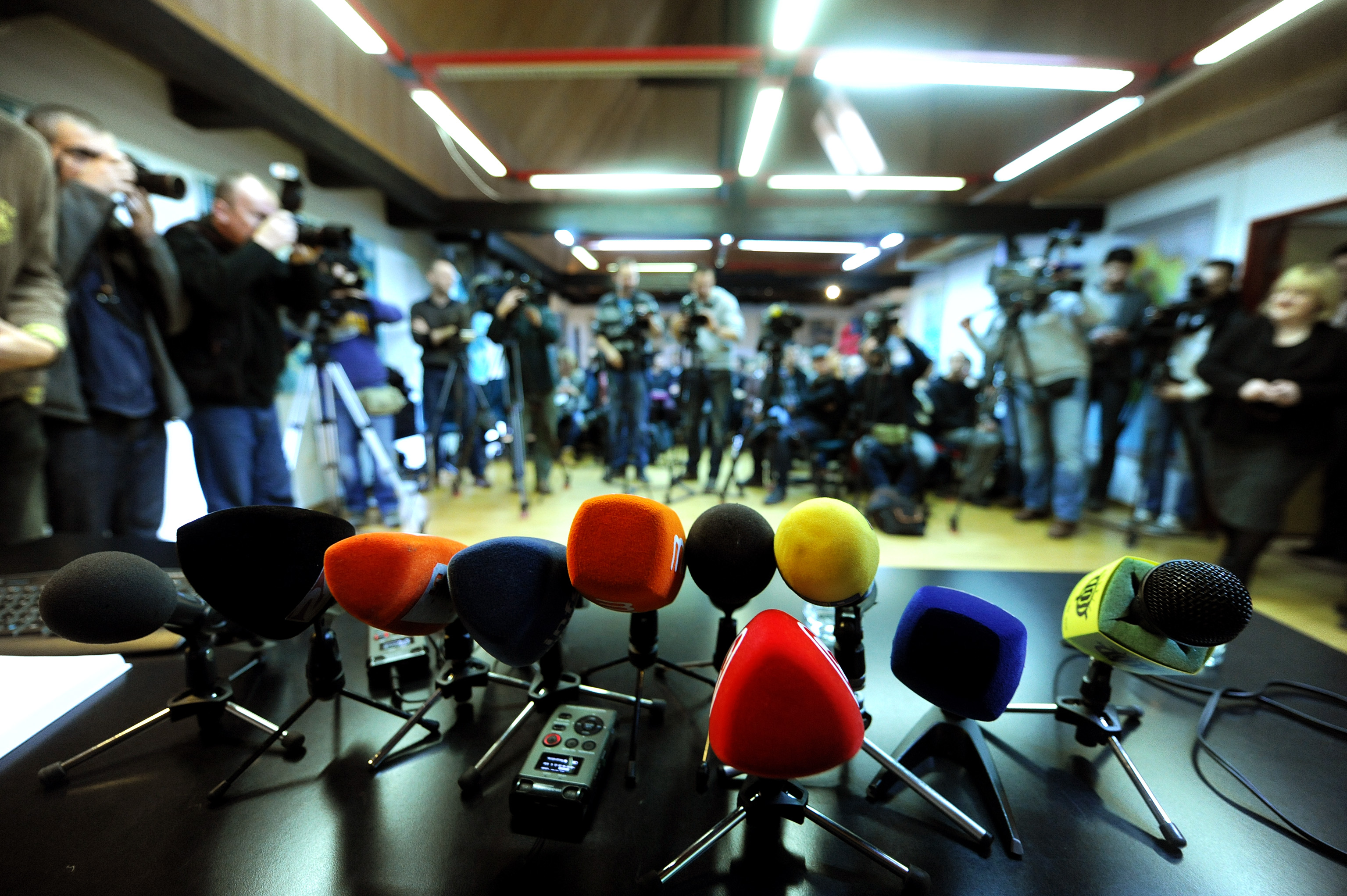 The Western Balkan's Regional Platform for Advocating Media Freedom and Journalists' Safety, which represents more than 8000 members, request swift answers from the Serbian authorities as to who placed the investigative journalist Stevan Dojcinovic on the "black list" that resulted in his detention in the United Arab Emirate (UAE) and subsequent deportation to Serbia. At the same time, it condemns the unacceptable physical attack on journalist Ensar Ramadani by the acting Minister of Trade and Industry of Kosovo Endrit Shala.
On 17.12. Stevan Dojcinovic, the award wining editor of Crime and Corruption Reporting Network (KRIK) had been on his way to the UAE to speak at the Conference of States Parties to the United Nations Convention against Corruption. He was detained by local police upon arrival at Abu Dhabi International Airport. After 12-hour detention, Dojcinovic was deported to Serbia accompanied by the police. KRIK reported that the airport police told Dojcinovic that UAE immigration authorities banned him entry due to his appearance on an 'international blacklist':
"They told me that it was not the UAE that put me on the list, but that it was a request by some other Government, but did not tell me which government it was," Dojcinovic said. This is a second time Dojcinovic was detained and deported – in 2015, he was deported from Moscow and banned from entering Russia until 2020. As in the UAE case, he hadn't been given any justification for such move.
"We requested of the Serbian Ministry of Foreign Affairs to obtain and publish official documents detailing reasons why Dojcinovic was banned from entering UAE, detained and deported" – said Zeljko Bodrozic, president of the Independent Journalists' Association of Journalists (IJAS) and added that the state must also request clarifications from UAE government regarding the existence of the so-called 'international black list' with journalists and publish it.
On the same day journalist Ensar Ramadani was physically assaulted by Endrit Shala, an acting Minister of Trade and Industry of Kosovo. The incident took place while Ramadani was in at the University Clinical Center of Kosovo to report about the condition of Luan Maloku who is in the same political party as Shala. Shala had asked the journalist for his phone and after Ramadani refused to hand it, Shala physically assaulted him, punching him in the face. Kosovo police is investigating the case.
"We welcome Kosovo police interest in this case, but highlight the importance of an impartial and swift investigation – attacks on journalists are not acceptable, and the fact that it was done by a political representative makes this case even more worrying" – said Gentiana Begolli, the president of Journalists Association of Kosovo.
Regional Platform joins its member IJAS in requests posed to the Serbian authorities and warns national and international institutions that existence of 'black lists' of journalists undermine democracy, freedom of expression, movement and information and as such are not acceptable.
As importantly, it supports AJK in its efforts to protect journalists and calls on the Kosovo authority to act quickly, investigate attack on Ramadani and sanction Shala in accordance with national laws. The Platform highlights the additional severity and importance of this case due to involvement of an acting Minister Shala and calls upon officials of Kosovo to lead by example and sanction Shala if proved guilty, condemn him publicly and hence pass the message that such behaviour is not acceptable on any level.
Every attack on a journalist is an attack on the public interest, democracy, and rights of all citizens.
Skopje – Belgrade – Podgorica – Prishtina – Sarajevo – Zagreb, 18.12.2019
BH Journalists Association
Trade Union of Media of Montenegro
Croatian Journalists' Association
Association of Journalists of Kosovo
Association of Journalists of Macedonia
Independent Journalists Association of Serbia