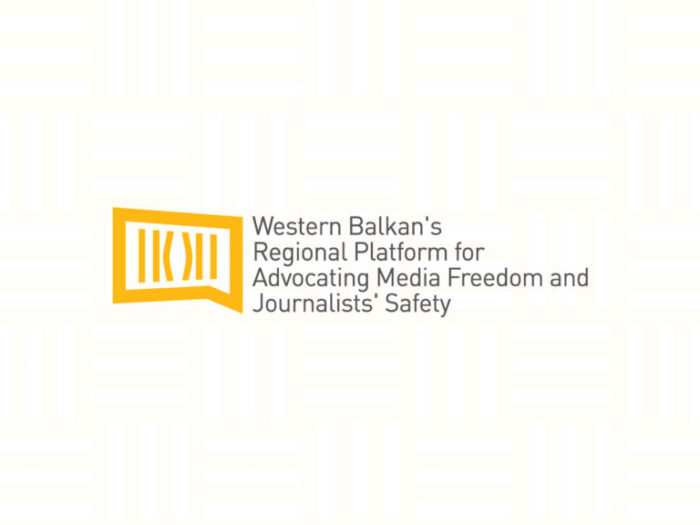 The Western Balkan's Regional Platform for Advocating Media Freedom and Journalists' Safety, which represents more than 8000 members, strongly condemns alarming expansion of pressures and intimidation exerted against N1 television, its editor Jugoslav Cosic and journalist Miodrag Sovilj by the state officials and pro-governmental media.
N1 is regularly targeted by the president Aleksandar Vucic, his close associates and pro-gov media who spread disinformation about it, fueling hostile environment for journalists. Since the beginning of 2019 the Independent Journalists' Association of Serbia (IJAS) recorded 27 incidents against N1, including two physical assaults and three verbal threats. Other include different types of pressures, such as public intimidation and labeling, smear campaigns, but also distributing fliers implying that N1 is a foreign media and Cosic is a "paid lobbyist for Kosovo". This lead to N1 editor Jugoslav Cosic's legal representative announcing that a formal security assessment of Cosic's safety will be requested.
The latest wave of public attacks targets Miodrag Sovilj as the main reason for Aleksandar Vucic's hospital admission. On Friday, 15th November, president Vucic held a press conference during which Sovilj tried to get answers regarding an on-going gun-trade affair related to the Minister of Interior. Couple of hours later, Vucic was admitted to the Military Academy Hospital. A wave of attacks against Sovilj followed.
"The situation is spiraling out of control – now a journalist who dared to ask questions of public interest is being publicly blamed for the president's deterioration in health" – said Zeljko Bodrozic, president of IJAS – "The lack of reactions by the authorities is alarming. There is no condemnation of such rhetoric, quite the opposite: instead of speaking against it and efforts to calm the situation, the highest officials are often the source of intimidation and are encouraging it."
The Regional Platform supports IJAS in its efforts to protect journalists and freedom of media and calls on highest officials to lead by example and stop producing and spreading disinformation about N1, its journalists and all media reporting in public interest. Relevant authorities should investigate all forms of intimidation and make sure that perpetrators are adequately punished securing the much needed deterring effect.
Every attack on a journalist is an attack on the public interest, democracy, and rights of all citizens.
Skopje – Belgrade – Podgorica – Pristina – Sarajevo – Zagreb, 19.11.2019
BH Journalists Association
Trade Union of Media of Montenegro
Croatian Journalists' Association
Association of Journalists of Kosovo
Association of Journalists of Macedonia
Independent Journalists Association of Serbia