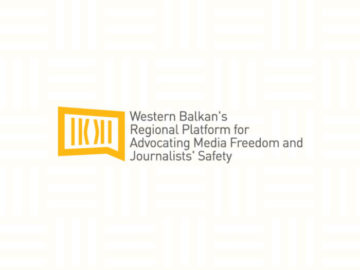 The Western Balkan's Regional Platform for Advocating Media Freedom and Journalists' Safety which represents more than 8,000 members, strongly condemns the hacking attacks on Patria News Agency (NAP) from Bosnia and Herzegovina and the N1 web portal from Serbia.
Patria News Agency (NAP) has been under intense cyber attacks recently, preventing the normal functioning of the web portal and the work of journalists and editorial staff. This media outlet points out that this is not the first time that they have been targeted by hackers, and that they suspect of politically motivated attacks.
According to the Secretary General of the BH Journalists Association Borka Rudic, hacking attacks on the media outlets are largely the result of other forms of attacks on journalists and newsrooms, which are often not properly sanctioned.
"Hacking attacks are most often seen as a technical threat to the media, but they are not just a technical threat, but also a professional one. Engagement of hackers has now become a method of silencing some media outlets so that they wouldn't publish information that is not at the will of the governing structures. That is why we have to take this problem very seriously", emphasized Rudic.
The N1 portal was the target of cyber attacks on three occasions from January 28-30, which made it impossible for several hours to access news on the website and the application. The original DDoS attack, which lasted for several hours, came from China, and was repeated once more during the day. The high-intensity attacks continued repeatedly over the next two days from thousands of computers aiming at overloading the web server, network, or other part of the N1 portal infrastructure to prevent access to their users. There is still no information regarding the perpetrators and the motives for the attacks.
"The fact that cyber attacks on N1 took place at the time as this media launched a campaign #LetN1BeSeen in a response to a dispute that led to loss of this TV channel affecting million citizens and being labeled 'political party' by the PM Ana Brnabic is in particular worrying", said Zeljko Bodrozic, IJAS president and added: "We expect of the Public Prosecutor for High-Tech Crime of Republic of Serbia to react and solve this case as soon as possible".
The Regional Platform requires the competent police structures in BiH and Serbia to urgently and promptly investigate cyber attacks on the Patria News Agency and N1 Television and to inform the public about measures they will take in order to protect freedom of the media and their safe work.
Skopje – Belgrade – Podgorica – Pristina – Sarajevo – Zagreb, 06.02.2020 
BH Journalists Association
Trade Union of Media of Montenegro
Croatian Journalists' Association
Association of Journalists of Kosovo
Association of Journalists of Macedonia
Independent Journalists Association of Serbia