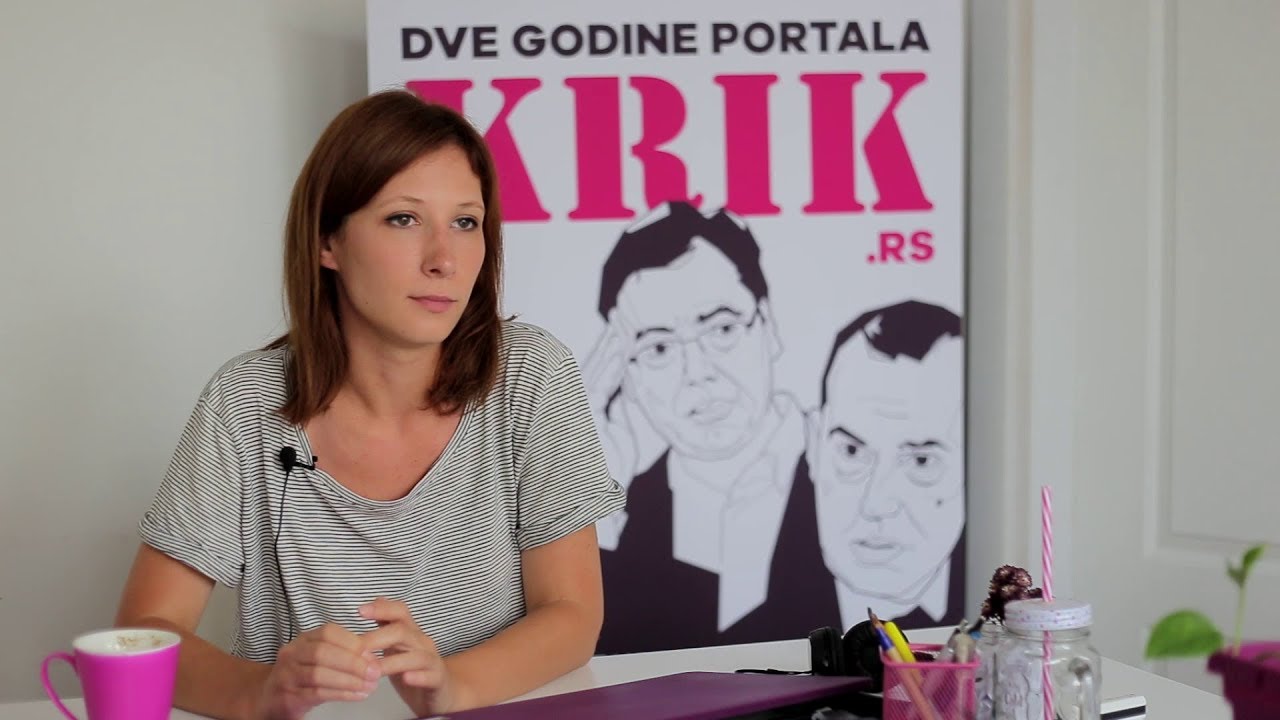 Bojana Pavlovic, journalist of the investigative portal KRIK was stopped by the police after taking photos of Danilo Vucic, son of Aleksandar Vucic, president of Serbia in the company of a man suspected to be a member of a criminal gang.  As her phone was taken by an unknown individual and she became surrounded by men who intimidated her, the police left the scene leaving her unprotected.
On June, 10th  Pavlovic took photos of Danilo Vucic sitting in a café with Aleksandar Vidojevic, currently on trial for participating in demolition of a night club and, as reported by KRIK, identified as a member of Kavaci organised crime group by the police. As she was leaving, three men stopped Pavlovic stating they were policemen. She produced a journalist ID, explaining that she is on duty but was told to wait for the police patrol as she is likely to be taken in. The men requested of her to delete the footage, which she did, having already sent the photos to KRIK. Two men approached them, one of which forcefully took the phone out of her hands. The police didn't react. Pavlovic said that at one point she was surrounded by five men and she'd asked them to move away as she felt endangered and unsafe. Vidojevic, accompanied by another person, approached the group and the policemen left, leaving her alone with four men. Vidojevic instructed the man to return the mobile phone, he did so and they left.
In a statement Pavlovic said she hopes the police will react upon this incident, and added:
– What I really want to know is why was I left there, surrounded by men I've been writing about for two years, alone to fend for myself?
Independent Journalists Association of Serbia (IJAS), member of SafeJournalists network, requested that the state authorities urgently identify individuals who stopped Pavlovic and those who took her equipment.
– This is not the first time KRIK journalists face intimidation. We insist on identifying all persons involved in this incident. If the men were policemen, why didn't they react upon the seizure of the phone and, more importantly, why did they leave when a person with a hefty criminal record approached Pavlovic? – asked Zeljko Bodrozic, president of IJAS and added that is disappointing that attack on Pavlovic took place as Serbia marks 19th anniversary of unsolved murder of Milan Pantic – This, and other incidents against journalists are result of years of impunity for crimes against them. Not solving older cases of attacks on journalists encourages new ones.
SafeJournalists Network, representing more than 8,200 media professionals in the Western Balkans, joins its member IJAS in requesting a full investigation of this case. The public must be informed about its findings and steps taken against the perpetrators. In case the persons who stopped Pavlovic were policemen, we request clarification about their alleged behaviour –  Pavlovic said they failed to act upon seizure of her phone and left her  surrounded by men she wrote about, some of which are known to the police for their criminal behaviour.
SafeJournalists Network will inform relevant national and international stakeholders about these cases.
Each attack on journalists is an attack on public interest, democracy and rights of all citizens.
Skopje – Belgrade – Podgorica – Pristina – Sarajevo – Zagreb, 11.06.2020
Association of Journalists of Kosovo
Association of Journalists of Macedonia
BH Journalists Association
Croatian Journalists' Association
Independent Journalists Association of Serbia
Trade Union of Media of Montenegro