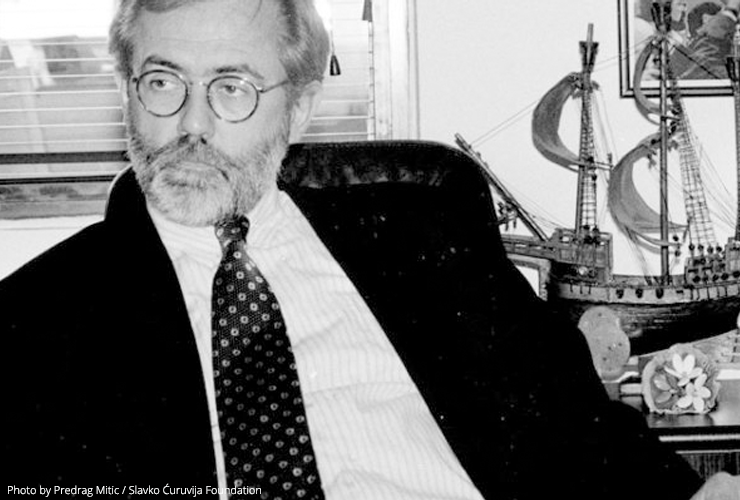 Following the start of the retrial last week at the Court of Appeal for the 1999 murder of Serbian editor and publisher Slavko Ćuruvija, the undesigned partners of the Media Freedom Rapid Response (MFRR) and the SafeJournalists Network (SJN) today renew our call for justice for his killing to finally be secured.
The pending ruling – which will either confirm or dismiss the previous guilty verdicts handed down to four state security agents for carrying out and planning his assassination – will be the most consequential for media freedom and journalism in Serbia's modern history.
Coming nearly 24 years after the editor and founder of the Daily Telegraph and Evropljanin was killed in Belgrade on 11 April 1999, the implications of the decision of the five-member panel of judges for Serbia are hard to overstate.
Most significantly, the confirmation of the verdicts sentencing the defendants to a total of 100 years in prison would finally bring to a close a more than two-decade long fight for justice led by Ćuruvija's family, loved ones, colleagues and civil society organisations.
Attaining the convictions would represent a remarkable achievement for those who have sacrificed so much to ensure that Ćuruvija's legacy is honoured and those who gunned him down at the entrance of his apartment are not able to act with impunity.
Given that no one has ever been convicted of the murder of a journalist in Serbia's modern history, this would represent a vital judicial milestone. Amidst the current toxic climate for the safety of journalists in Serbia, it would also send a clear message that anyone considering trying to attack or silence a journalist will not escape accountability.
More widely, this appeal verdict – which shines a light on the crimes of the Milošević regime – represents a timely litmus test for the rule of law and democracy in Serbia, as well as of the resolve of authorities trying to solve the spate of killings of journalists in the late 1990s and early 2000s.
If high-level state officials are convicted, it will give much-needed hope that justice can, even decades after the crimes were committed, be achieved for other journalists killed amidst the bloody breakup of Yugoslavia: Milan Pantić in 2001, and Dada Vujasinović, the circumstances of whose death in 1994 was never fully established.
As we await the final verdict in the coming months, our organisations today restate our solidarity with Slavko Ćuruvija's family, his widow Branka Prpa, and all those who have been so fundamental to the campaign for justice, including journalists and media associations, the Commission to Investigate the Murder of Journalists and the Slavko Ćuruvija Foundation.
Moving forward, we hope justice for Slavko Ćuruvija will be secured and that the vicious cycle of impunity for the killings of journalists in Serbia will, finally, be broken.
Signed:
European Centre for Press and Media Freedom (ECPMF)
European Federation of Journalists (EFJ)
Free Press Unlimited (FPU)
International Press Institute (IPI)
OBC Transeuropa (OBCT)
SafeJournalists Network members:
Association of Journalists of Kosovo
Association of Journalists of Macedonia
BH Journalists Association
Croatian Journalists' Association
Independent Journalists' Association of Serbia
Trade Union of Media of Montenegro
Trade Union of Croatian Journalists