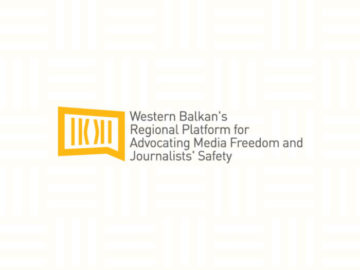 The Western Balkan's Regional Platform for Advocating Media Freedom and Journalists' Safety which represents more than 8,000 members, strongly condemns the attack on the journalist of TV21, Almedina Ismaili, who received serious threats after publishing a story about a member of the political party Alliance for Albanians.
On January 27th, Ismaili wrote an article in which she mentioned Neshat Ademi, former member of the Alliance for Albanians (AA), after he posted on his Facebook profile that he was leaving the political party AA. After the story was published, Ismajli received a phone call in which Ademi sent serious threats to her. He said to her: "I suppose you haven't been beaten for a long time. I will kill you for publishing this article".
The case was reported to the police and the next day Ademi was called in the police station to give his statement. Unfortunately, the institutions of law enforcement estimated that there were no elements for raising criminal charges against Ademi.
"I would like to remind that only through strict sanctioning the institutions could prevent future attacks and threats against journalists. The state has an obligation to provide effective system of prevention and punishment of violence against journalists. This is essential for improving the situation with freedom of speech in the country", said Mladen Chadikovski president of AJM.
In just one month there have been four attacks and serious threats against journalists, which is equal to all registered attacks in 2019 in North Macedonia. In all four cases, subjects of pressures were female journalists which raise the concern even more since this is a new negative trend in the country.
The Western Balkan's Regional Platform for Advocating Media Freedom and Journalists' Safety supports the Association of Journalists of Macedonia in its' efforts to protect journalists and freedom of speech in North Macedonia. At the same time, we urge the relevant institutions to take the attacks on journalists more seriously and to have appropriate sanctions against the attackers.
Skopje – Belgrade – Podgorica – Pristina – Sarajevo – Zagreb, 31.01.2020
BH Journalists Association
Trade Union of Media of Montenegro
Croatian Journalists' Association
Association of Journalists of Kosovo
Association of Journalists of Macedonia
Independent Journalists Association of Serbia