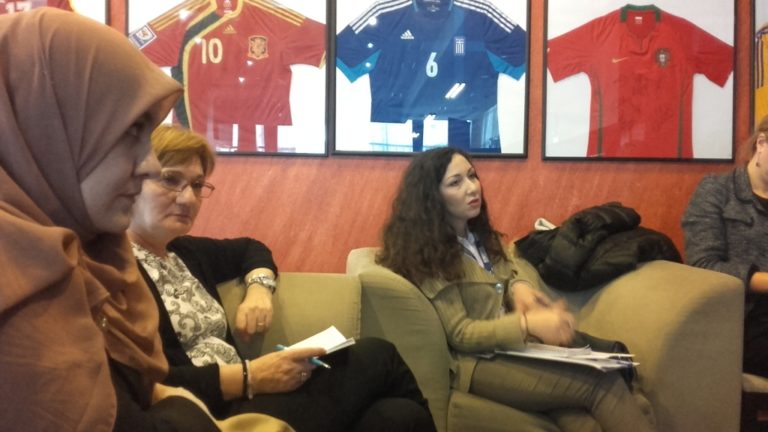 SARAJEVO, 18.01.2018.-Local media are under economic, and often political pressure, says a journalists who participated in the conversation with representatives of the OSCE Mission in our country on the issue of strengthening the capacity of journalists.
It is necessary to educate journalists on protection mechanisms, ethical standards, the application of laws that regulate freedom of expression, as well as educating politicians about accountability towards citizens and their attitude towards the media, said Velida Kulenovic, journalist of the Radio FBiH and president of the BHN Club in Zenica.
The economic dependence of local media influences their work, and continuous education of journalists is necessary, as well as greater mutual solidarity, says the editor of TV Zenica Sinan Gluhic. During the conversation, the need for monitoring of court proceedings related to the application of the Law on Protection against Defamation was emphasized, while journalists Harun Bošnjak (BHT) and Adnan Džonlić (Zenicablog) spoke about the "slow" nature of the judicial authorities in cases of reporting and prosecution attacks on journalists. According to Mirsad Bajtarevic, journalist BHR1, professional and fair reporting, as well as the application of laws regulating freedom of expression, are important for the work of journalists.
There was also a talk about the election period and pressures that media and journalists were exposed at that time, so Enes Begičević, a journalist at FENA, stressed the need to educate politicians in relation to the media and journalists, especially in the election period.
It was also discussed the transparency of spending of funds for the media from the budget, reports of attacks on journalists and education of young journalists.
The OSCE Mission will continue activities related to working with journalists, told Anja-Leyli Hessarbani ahead of the OSCE mission. "The aim of today's meeting was to get acquainted with the state of the media and the needs of journalists in Zenica. The OSCE Mission recognizes the importance of local media in timely reporting, and that's why we will continue to work with journalists in order to make the journalists work better," added Hessarbani.