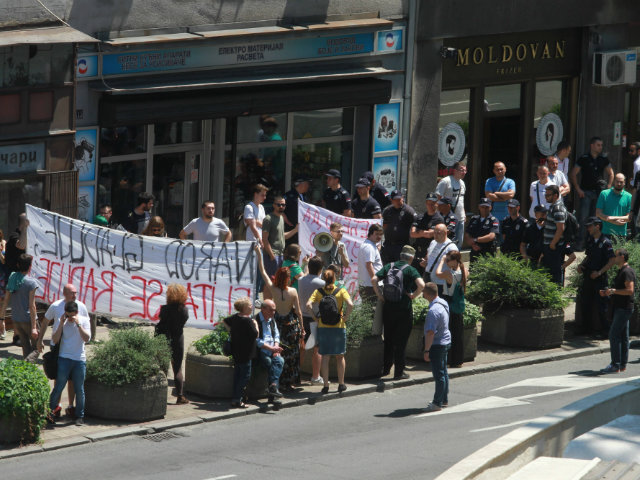 BELGRADE, 14.06.2017. – As the European Parliament's Rapporteur warns Serbia that it must ensure media freedom, MPs from Serbia's ruling party have defended the ruffians who attacked journalists at the new President's swearing-in ceremony. 
Several MPs from the ruling Serbian Progressive Party have excused the attacks on journalists that took place on May 31, when Serbian President Aleksandar Vucic was sworn in – as the EU again warns Serbia about its treatment of journalists.
Progressive Party MP Vladimir Djukanovic wrote on Twitter on Tuesday that he gave "full support to the guys" who removed those who "came to provoke" from the party's celebratory rally.
"I personally stand up in the party for awarding and commending the guys who prevented provocateurs from causing incidents at the rally," Djukanovic wrote.
Several media outlets that day published photos of ruffians who violently prevented journalists from reporting about other incidents on the swearing-in of President Aleksandar Vucic on May 31.
The inauguration day was marred by several incidents, including attacks on journalists and opposition activists.
The photos showed men choking and pulling journalists and photographers from the ceremony, which police were supposed to secure.
Following complaints about the incidents, Vucic on June 1 said he had heard nothing about any attacks – but apologized to those who were attacked, also blaming the incidents on those "who came to provoke", however.
The day was also marked by rival gatherings of members of the Progressive Party and an opposition protest later on.
During the inauguration ceremony, anti-government activists from the "Against the Dictatorship" movement tried to hold up placards bearing anti-Vucic messages, but were prevented from doing so by Progressive Party supporters, who also tore down the placards.
Another Progressive Party MP, Marijan Risticevic, wrote on Twitter that anyone who prevented violence at the rally and removed so-called provocateurs should be "awarded as guardians of the public peace and as fighters against violence".
A third ruling party MP, Aleksandar Martinovic, accused the liberal daily Danas newspaper, which published the photos, of acting as "both court and prosecution".
A journalist from Danas, Lidija Valtner, was among those reporters who said they were attacked on May 31.
"And what are you? Prosecutor? Is this a hearing?", Martinovic said in answer to questions about the photographs from journalists of N1 television on Tuesday.
However, Progressive Party Infrastructure Minister Zorana Mihajlovic has struck a different note, telling the media that she expects the relevant institutions to react to complaints.
The attacks come as European Parliament Rapporteur for Serbia David McAllister says Serbia's government must do more to ensure freedom of media and expression.
"Freedom of expression and the media must be ensured and this should be the primary focus of the authorities in Belgrade," McAllister said in his introductory speech to a debate about Serbia's EU progress, Beta news agency reported.
Since taking power in 2012, Vucic has been regularly accused of undermining free speech and freedom of the press.
In its latest 2017 report, the watchdog organization Reporters Without Borders said Serbia was among the countries with the worst decline in media freedom over the past year.
The incidents involving the journalists have been condemned by all opposition parties, but also by NGOs advocating human rights and journalist's associations.
The prosecution on Tuesday said it had asked the Interior Ministry to identify the thugs from the published photos.
The Head of the OSCE Mission in Serbia, Andrea Oricio, meanwhile said on Wednesday that Serbian institutions must send a clear signal that attacks on journalists will be dealt with.
"Institutions have an important task to send a signal that attacks on journalists on assignment will not be tolerated," he told an event about media freedom in Belgrade, Beta news agency reported.
– See more at: http://www.balkaninsight.com/en/article/serbian-officials-defend-thugs-from-the-vucic-s-sworn-in-ceremony-06-14-2017#sthash.GbIkgUR6.dpuf