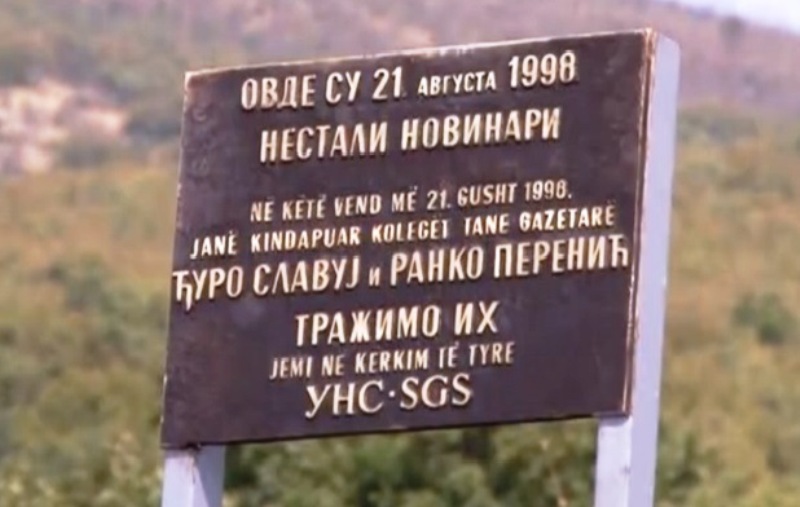 BELGRADE, 22.08.2017. – Marking the 19th anniversary of the disappearance of two Serbian radio journalists in Kosovo, a journalists' association has demanded a fresh investigation into their deaths – and those of other journalists abducted and killed in Kosovo.
On the 19th anniversary of the abduction of two Serbian journalists from Radio Pristina during the war in Kosovo, a Serbian media union, the UNS, has appealed to the EU rule of law body in Kosovo, EULEX, to the UN authority, UNMIK, to the War Crimes Prosecutor's Office in Serbia and to the War Crimes Tribunal in Kosovo, to investigate these and other killings and kidnappings of journalists and media workers in Kosovo.
"UNS and [its Kosovo branch] DNK urge these institutions through a public campaign and through a witness protection program to encourage individuals to talk about crimes against journalists," a press release from UNS said.
Two Serbian journalists from the radio station, Djuro Slavuj and Ranko Perenic, were abducted during the conflict in 1998 on the road between the towns of Orahovac and Zociste in western Kosovo. They were never seen again.
Slavuj and Perenic were abducted when they went to report on the return of Serbian Orthodox monks to the nearby Zociste monastery. According to UNS, they were in an area controlled by Kosovo independence fighters. Their bodies and their car were never found.
A memorial dedicated to two journalists was erected in August 2014, on the 16th anniversary of their abduction, written in both Serbian and Albanian, reading: "Here on August 21, 1998, two journalists, Djuro Slavuj and Ranko Perenic, went missing. We are looking for them. UNS."
Since then, according to UNS, the memorial has been attacked five times, and those responsible have not been found.
In its press release, UNS recalled other cases of kidnappings and murders of other Serbian journalists in Kosovo which remain unsolved.
"Ljubomir Knezevic, journalist of Pristina's 'Jedinstvo' and correspondent of 'Politika' was kidnapped on May 6, 1999, near Vucitrn. Aleksandar Simovic, journalist and translator, disappeared on August 21, 1999, in Pristina. Part of the remains of Simovic were found in the village of Obrinje near Glogovac. Momir Stokuća, a photojournalist, was killed on September 21, 1999, in a family house in the center of Pristina. Media worker Milo Buljevic was taken away by the KLA on June 25, 1999, near the refugee center in Pristina. Marjan Melonasi, a journalist of the Serbian desk of the Radio Kosova, disappeared on 9 September 2000 in Pristina," UNS said.
It added that Kosovo Albanian journalists had also been killed during this period. Between 1999 and 2005, it noted the murders Afrim Malici, Enver Maljoku, Sefki Popova, Dzemailj Mustafa, Bekim Kastrati and Bardhyl Ajeti.
At the beginning of this month, the UNS also announced that Krist Gegaj, an editor from RTV Pristina, was killed in Istok in September 1999.
"Nobody has answered for any murder or disappearance of these journalists and media workers", UNS added.
The head of the Serbian government's Office for Kosovo, Marko Djuric, said in separate press release on Monday that the Slavuj and Perenic case remained "a big stain on the face of those who in Kosovo are taking care of the establishment of the rule of law".
"A society based on inter-ethnic tolerance in Kosovo will not be possible until the families of the missing, regardless of their nationality, are satisfied with the truth," Djuric concluded.